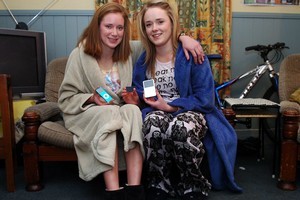 His tight pants may have given him away, but it was a pair of pyjama-clad female students - including a former running champion - who helped Dunedin police get their man.
University of Otago physical education student Kathryn Kennedy was in her bedroom on the top floor of her Dundas St flat, when she heard a loud noise downstairs.
She alerted her flatmate, physiotherapy student Emily Reynolds, and the pair yelled hello down the stairs after they heard a male voice ask: "Is Josie here?"
The pair went downstairs to find a large well-dressed man, who repeated his question, before leaving through a side door.
When they realised three of their iPods were missing, they confronted him outside to ask for them back.
Miss Kennedy said she asked for the items back, and could even make out the shape of her iPod Nano in his tight jeans.
When Miss Reynolds began telephoning police, he handed over two of them.
"I told him, 'You are going to have to pay for what you have done' ... and he walked off," Miss Kennedy said.
Wearing pyjamas, dressing gowns and slippers, the pair followed him until he broke into a run.
"I was like, 'You have chosen to mess with the wrong person'."
Then the former New Zealand youth 400m representative-turned-budding triathlete began a 10-minute pursuit of the man around the campus.
While running after him she was able, via cellphone, to direct police to the man, who was by then visibly tired, she said.
"It was quite an eventful morning."
The 31-year-old Dunedin man, who was wanted by police after his parole was revoked, was returned to prison to serve the remainder of a sentence of two years and three months for burglary and a string of convictions for receiving stolen goods.