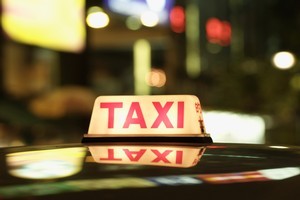 Taxi companies are expecting a busy night in Auckland this Friday, but if you need a cab early on Saturday you shouldn't have any trouble getting home from Party Central.
Up to 50,000 people are expected to flood the waterfront, and with a further 60,000 packing into Eden Park for the opening game of the Rugby World Cup the city's transport facilities will be put to the test.
Extra buses and trains have been put on to cater for the extra masses, but taxi companies are warning it may be hard to get a cab at certain times.
Corporate Cabs operations manager Peter Thompson said their taxis were "pretty well fully booked" before and after the game.
"After the match for about two hours we're very much fully booked out and certainly from about 5 o'clock through to 7pm, you'll be pretty well stuffed getting a taxi," he said.
"If you wanted to book, we might be able to take a few bookings a little bit earlier and at the other end at midnight we will have taxis available then."
While you may find yourself paying more for accommodation or food at some establishments during the Rugby World Cup, you are not going to face price gouging from the main taxi companies.
"If it is a taxi it is the standard tariff rate that it states on the door - we can't charge any more than that," Mr Thompson said. "We're bound by legislation, but that's not to say some rogue elements won't charge people more - that's for the taxi enforcement guys to deal with."
Auckland Co-op Taxis chairman Ian Graham is expecting a "chaotic" Friday night.
"We've had very heavy bookings - it's going to be a busy night. It'll probably be similar to a New Year's Eve."
Mr Graham expected drivers to be busy prior to the start of festivities at the Queen's Wharf fan zone and before and after the opening ceremony and All Blacks versus Tonga game at Eden Park.
"We're going to be really busy, I'd say from 4.30pm through to 8.30pm."
However the manager of Cheap Cabs, Carol Ramsey, is confident people will not struggle to find a cab when they are ready to leave town early on Saturday, saying Auckland will be "over-catered for" if anything.
Ms Ramsey said many former drivers have had their licences renewed for the tournament, and all of the company's 140 taxis will be on the road.
"Most taxi drivers ... already could take a 60 per cent increase in workload on a busy Friday or Saturday night. Then you've got extra drivers, extra transport ... I think Auckland will be fine," she said.
Ms Ramsey expected a rush of demand between 2am and 3am, just like on a normal Saturday or Sunday morning, and did not believe there would be any trouble getting people to and from the game.
Alert Taxi's director Paul Cafferkey is also confident they will be able to cope with demand. All 400 of the company's fleet will be on the road this Friday.
"We've had some good bookings, to games, from games, and to other events," Mr Cafferkey said.
One concern shared by the taxi companies is how difficult it will be to get to the waterfront.
Mr Thompson said: "People are going to have to walk a considerable distance because the whole of Quay St is closed."