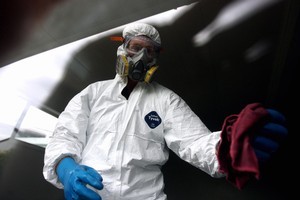 Police have discovered a suspected methamphetamine lab in a Hamilton house where three children lived.
They say the discovery demonstrates the risks offenders are willing to take in the pursuit of their illegal products.
Detective Senior Sergeant Nigel Keall of Waikato CIB said two children, aged 6 and 1, were referred to other agencies for a check-up while a third child was away when officers searched the house in Hamilton East this morning.
An alleged methamphetamine lab and chemicals were found in the garage at the property.
Given the toxic and volatile nature of the chemicals involved in the manufacture of methamphetamine, the experience of a specialist clan lab team involved in the search was invaluable, Mr Keall said.
"They can offer expert, on-site advice such as risks posed by exposure to the chemicals, which is why the children at the address were referred to health professionals to ensure their safety."
A 38-year-old man was charged with possession of equipment for the manufacture of methamphetamine and will appear in Hamilton
District Court later this week.
Mr Keall said further charges were likely.

- APNZ