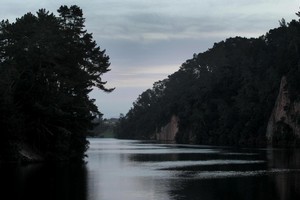 The family of a British man who has been missing for more than a week on a Waikato lake are holding onto the hope of his safe return.
But as each day passes they know that hope is fading.
James Roberts, 45, of Pukeatua and his friend Jordan Pooley, 21, of Tokoroa have not been seen since they went fishing on Lake Arapuni on Sunday August 28.
Mr Roberts' dog Maggie ran more than 10km back to her home where a neighbour noticed her last Wednesday and raised the alarm, sparking a search operation.
Mr Roberts' sister Jonica Bray yesterday told the Herald that her parents in Cornwall, England were devastated by the news and were ``preparing for the worst''.
"But I still think unless bodies are recovered they are always going to hold on to some kind of hope.''
Ms Bray, a television producer living in Sydney, said her brother has a son in his mid-20s who was on his third tour of duty in Afghanistan with the British Army but was understood to be returning to England to be with family.
She said herself and other family members did not know about his disappearance because his son was listed as Mr Roberts' next of kin.
Ms Bray said she kept in touch with Mr Roberts via Facebook and he told her how much he loved living in New Zealand.
Her stepfather came to visit him in Waikato this year and even enjoyed a couple of days of fishing with him on Lake Arapuni on the three-metre boat which searchers are now looking for.
"James fell in love with New Zealand and his way of life there, he was living his dream,'' said Ms Bray.
She is considering heading to Lake Arapuni tomorrow when Mighty River Power lowers lake levels to assist with the search but feels for her family in Cornwall who fear they may miss news of Mr Roberts while in transit if they travel here.
She also wanted to meet Mr Pooley's family and to thank the many people who have "gone above and beyond'' spending hours helping with the search on the 25km long lake.
"These are obviously people James knew but we didn't,'' she said.
"It means a lot to us that people are making this effort in these times.''
Taupo Police area commander, Inspector Steve Bullock, said despite no sign of the men, police had found some items of interest including clothing which may belong to them.
He said this could help to narrow the search area.
Inspector Bullock said the water level in the lake will be lowered tomorrow.
"We have been looking at a large range of options to assist us in our search operation.''
He said while the level of the lake is lowered, police will be undertaking water, land and aerial searches of the area.
The police dive squad will also be working in the lake during this phase of the operation.