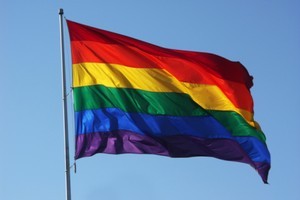 The Hamilton City Council has rubbished claims they are trying to hide the city's gay community during the Rugby World Cup.
Hamilton Pride chairwoman and Waikato University Associate Professor Lynda Johnston told Fairfax Media the council will not allow 14 lamp posts on Victoria Bridge to be adorned with colourful knitted scarves for the annual Gay Pride Week, which runs from September 17.
The city hosts its first Rugby World Cup game on September 16, when the All Blacks take on Japan at Waikato Stadium.
Ms Johnston said the council told her the bridge had already been booked by the World Cup organisers for promotional reasons and the scarves could distract motorists.
She said the council's decision showed why a Gay Pride Week was needed.
The council's transportation manager Phil Consedine told Fairfax Media it was keen to support the community, but much of the city is off-limits due to long standing arrangements for the Rugby World Cup.
He also said the council was not given enough to time to consider Hamilton Pride's application, as it was only filed last month.
- Herald Online staff