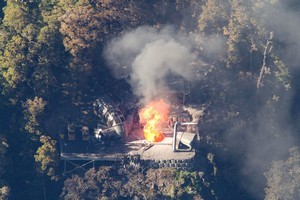 Daniel Rockhouse, one of only two people to survive the Pike River mine blast which killed 29 men last year, is to give evidence to the Royal Commission inquiry into the tragedy today.
The inquiry moves into its second phase today, investigating the search and rescue operation following the disaster.
Rockhouse is among 26 witnesses who will be called in this phase. Other witnesses include Daniel's father Neville, a former Pike River Coal safety and training manager, Pike River Coals chief executive Peter Whittall, Superintendent Gary Knowles, who led the operation, Mines Rescue Service general manager Trevor Watts and family of the victims.
The second phase of the investigation will look at aspects of the rescue operation including whether police should have lead the operation rather than Mine Rescue and whether there was an opportunity to enter the mine immediately after the November 19 blast.
Daniel Rockhouse has flown back for the hearing from Australia, where he's working in a mine.
Greymouth Mayor Tony Kokshoorn said it will be tough for him.
"He'll have to relive the disaster all over again. It's something they're prepared for, they know it's coming, and they will do a good job of it," he said.
He said a lot of people want to know the rescue attempt was handled by the right people.
"Everybody's just a little bit apprehensive still. They are looking to actually find out how the rescue attempt went so there's a lot of feeling out there that hopefully the right calls were made," he said.
The hearings will run from today until September 23.
- Newstalk