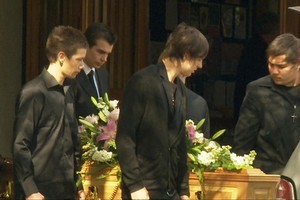 The grieving father of Emily Longley has spoken of the pain of farewelling his daughter, almost four months after she was found dead in England.
The body of Emily, 17, was returned to her family in Auckland this week after toxicology tests in a British morgue failed to reveal the cause of her death.
The former Westlake Girls' High School student was found dead in the bed of ex-boyfriend Elliot Turner in Bournemouth in May. Turner, 20, has been charged with murdering Longley and with intent to pervert the course of justice. He is due to enter a plea on September 30.
Yesterday, Mark Longley told hundreds of friends and family at St Joseph's Catholic Church in Takapuna of his daughter's fun personality.
"I am distraught I just had to say goodbye to my daughter, but I'm happy we gave her a fitting tribute and a nice send off," he told the Herald on Sunday.
He said Emily's friends shared memories about the fun times they had with the popular North Shore girl.
"It was about remembering and celebrating her life, the good times everyone had with her. She was a very fun-loving, lively girl."
Emily's father, mother Caroline and sister Hannah took Emily's body to Schnapper Rock Crematorium for a private ceremony.