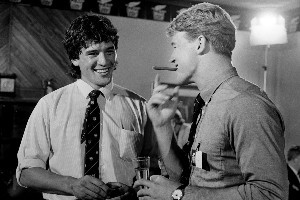 The matching grins say it all.
A boyish Zinzan Brooke, hair tousled and sleeves rolled up, beams at his equally young mate John Kirwan, contentedly puffing on a cigar in the Grand Hotel at Whangarei.
Kirwan remembers the good, the bad and the ugly of that night in May 1987 when he and "Zinny" were selected to represent New Zealand in the inaugural Rugby World Cup.
The elation and the bitter disappointment was captured live on TV. That live broadcast, Kirwan said, was one of the worst decisions ever made. The cameras caught Buck Anderson thinking his name had been called out, when it was in fact Buck Shelford's.
"That was pretty ugly for all concerned," said Kirwan. "We all felt for Buck Anderson when he missed out."
But celebrations were shortlived as the squad went straight into training camp. Kirwan recalls, with a hint of regret, the start of a new era that would signal the end of amateur rugby. The first chore was to sign a raft of rugby balls, part of the sponsorship obligations. "We didn't really know what we were getting into. We didn't realise how big the World Cup would be. It was the end of the game as we knew it."
Back then, Zinzan Brooke - relatively inexperienced - was a surprise choice. But Kirwan says the 1987 squad's strength was its mix of experience and exuberant newcomers.
It was the end of the Cavaliers era - players like Andy Dalton, Andy Haden and Gary Knight making way for a new breed like Brooke, Bernie McCahill, Michael Jones and Sean Fitzpatrick.
This week Kirwan, who divides his time between his villa outside Venice and his Tokyo apartment, arrived in Auckland with the Japanese team ready to take on France, the All Blacks, Tonga and Canada.
It's that mix of experience and youth Kirwan has emulated in the selection of his Japanese squad, now based at Gulf Harbour. The team's last pool game is on September 27 but Kirwan hopes for a longer run.
Kirwan has no problem with doing everything he can to make sure the Japanese win.
"It's easy. When I commit to something I give it 100 per cent. My job as a coach is to make these players the best that they can be."
Kirwan hopes his team will have their greatest experience.
"This is the best time of their lives. That's what I keep telling them. We're really excited."