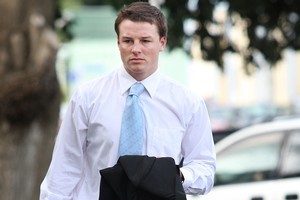 Champion motorsport driver Earl Bamber has appeared in court to admit a drink-driving charge.
Bamber, 21, arrived at Wanganui District Court alone yesterday to plead guilty to driving with an excess breath alcohol level of 793mcg. The limit is 400mcg.
Bamber was pulled over after he was seen allegedly speeding around a corner in Wanganui about 2am on July 31.
Bamber's lawyer Roger Crowley said Bamber was a professional motor racing driver, instructor and commentator who spent most of his year in Europe.
He was due to leave the country for Europe today and would not be returning until September 27.
Mr Crowley applied for Bamber to be discharged without conviction, which would see his criminal record remain clean if granted.
The application is to be opposed by police and the matter is to go to a hearing on October 20.
Bamber began in karts, winning his first major title aged 12 and working his way up to single-seater racing on tracks in New Zealand and overseas.
His career highlights include winning the New Zealand Grand Prix in 2010 and Toyota Racing Series Hamilton 400 Trophy in 2008, and placing second in the Toyota Racing Series New Zealand 2009-10.
In 2009, he was invited to race with the New Zealand team in the A1GP World Cup of Motorsport, and was named Asian Formula BMW champion in 2006.
He also holds a slew of kart championship titles dating back to 2002.
Bamber declined to comment when approached outside the court following his appearance.

- APNZ