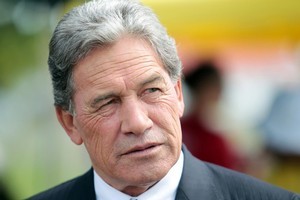 Prime Minister John Key won't work with him, but more than one third of voters think the return of NZ First leader Winston Peters would be good for New Zealand.
Asked whether the return of Mr Peters to Parliament would be positive or negative for New Zealand, 56 per cent of respondents in the Herald DigiPoll survey said it would be negative and 36 per cent said positive.
About 8 per cent did not know.
There was also a significant increase in personal support for Winston Peters in the latest poll, whose stakes as preferred Prime Minister rose from 2.9 per cent to 5.2 per cent.
He outdid Labour leader Phil Goff among older voters - 14 per cent of those aged over 65 years named Mr Peters as their preferred Prime Minister compared to 13.2 per cent for Mr Goff.
NZ First's fortunes rose less dramatically from 0.9 per cent to 2.4 per cent - much of it apparently driven by older voters leaving Labour whose support slumped among those
aged over 65.
The DigiPoll survey followed the party's annual conference at the end of July where NZ First set out its policy to cut off benefit payments to child abusers, promised to scrap the anti-smacking law and halt state assets.
Although NZ First remained below the 5 per cent threshold to make it back into Parliament, the number who believed his return would be positive and signs the party is
benefiting from Labour's drop in support indicate there is potential to make up ground.
By way of comparison, in May's DigiPoll survey only 11 per cent of respondents believed the country would be better off under a coalition with National and a Don Brash-led Act Party - and 48 per cent said it would be worse off.
The decision by Prime Minister John Key to rule out any coalition arrangement with NZ
First was viewed by many as a death knell for the party.
However, the DigiPoll results indicate there is still some disagreement with Mr Key's decision - it tallies with a TVNZ Colmar Brunton poll in February in which 57 percent
agreed with Mr Key's decision not to work with Mr Peters, 34 percent disagreed.
Although Mr Peters said at his conference that the party intended to use social media to attract a more youthful voting base, he has some way to go.
His core support remained among the elderly - 7.6 per cent of those aged over 65 years selected NZ First - but just 1.3 per cent of those aged 18 to 39 and 0.9 per cent of 40-64 year olds chose his party.
The Herald DigiPoll of 750 eligible voters has a margin of error of plus or minus 3.6 per cent.