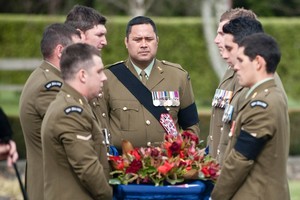 Corporal Doug Grant's strong personality, even in death, filled the huge gymnasium at Linton Camp yesterday as his loved ones and defence family farewelled him as a hero after he was shot trying to save others in Afghanistan.
Mourners heard about the soldier who was passionate about the mission in Afghanistan and who the night before he was killed told his commanding officer that the SAS was "doing it right" in Kabul.
Friends and family talked of a man who had strong views, who couldn't stand injustice, who took to anything he did with precision, who learned to be a carpenter and built his own house, and who entertained his family and friends with his storytelling.
He inherited that last quality from his Irish mother, one said.
Corporal Grant's Scots father spoke about Doug the boy in Tokoroa and was supported during the service by his four remaining sons, two of them police officers.
Doug Grant was bang in the middle of the five boys, his brother Stuart said, the place in the family "where you need to be a bit larger than life to get noticed".
"He got noticed."
To his family he was Dougie. To his comrades in the forces he was "Doug TV", a nickname that stuck after a TV programme called Doug.
Corporal Grant had adored his wife, Tina, and their two children, Jemma, 7, and Jaden, 5.
Through her grief she spoke to about 1500 mourners of their 15 years together, and how "he could tell a story like no other".
One friend talked about how Corporal Grant had spent months organising his own 40th birthday party last year to the last detail, to run over three days and two nights, with a 24-hour kitchen, accommodation sorted, 14 kegs of beer and his sharing a $600 bottle of whisky he had been saving.
SAS commander Lieutenant Colonel Chris Parsons started his training with Doug Grant in 1996.
"We were mounted troopers together; we've been shot at together and Doug was there along with our Anzac mates when we rescued 600 East Timorese villagers from the militia."
Doug Grant had approached life the same way he rode his motorcycle - "above the speed limit".
He revealed that he had been with Corporal Grant in a Kabul restaurant two weeks ago - the night before he was killed - and that the soldier had been "full of enthusiasm for the mission and vigour to be once again on operations with his SAS mates".
He had explained to the Regimental Sergeant Major, the Colonel Commandant and to himself "how our contribution to train the Crisis Response Unit and to pass responsibility to them was, in his words, 'doing it right'."
He said that if Doug Grant had been there, he would have drawn attention to the sacrifice of First Sergeant Abdul Rachman of the Crisis Response Unit, who also died, and nine of its members who were injured.
Lieutenant Colonel Parsons made a strong case for New Zealand's involvement in Afghanistan.
"It is often tempting to ask can we win or not and thereby weigh up the merits of helping the Afghans. But perhaps there's a more important question to be asked: who are we if we do nothing to avert brutality?
"As a nation our finest hours have been when we have calculated the need rather than the odds. And it was this great sense of purpose in which Dougie Grant epitomises the indomitable Kiwi spirit."