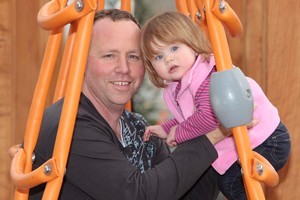 St Valentine would be surprised. The Virgin Mary might be bemused. Valentine's Day and Mother's Day, created in their honour, have been embraced by marketers and turned into multibillion-dollar global industries.
But not so Father's Day. New figures reveal we spend less on our dads than we do on our mums and lovers.
Gift stores around the country described Father's Day, which is celebrated next Sunday, as "not so popular" and "not so much of a big deal".
Prepay gift-card company Ezi-Pay has revealed that although more of us buy vouchers for our dads than for our mums, the average spend was only $35 in the lead-up to Father's Day last year - $10 less than Mother's Day and $20 less than Christmas.
Ezi-Pay provides gift cards for retailers including The Warehouse, Mitre 10, Noel Leeming, Paper Plus, Liquorland and Repco.
The company's sales data indicates people shop at the last minute - or even after the fact - for Father's Day presents - a sales spike occurs the day before and continues into the following week.
But those late shoppers could be forgiven for being caught unaware. With just a week to go, many shops are barely promoting it.
Online, many gift stores don't have a Father's Day category. "For some reason, dad doesn't rate," said Ezi-Pay chief executive Dave Spicer.
Spicer is a father of two, son Denham, 12, and daughter Jessie, 10. He rated socks and hankies as the least-thoughtful presents but defended vouchers. In the past few years they had gone from being considered the least thoughtful gift to the most thoughtful.
Ezi-Pay's most popular gift cards at this time of year were for hardware stores and car-accessory retailers like Repco.
Barry Thomas, who owns men's gift shop Personal Best in Remuera, said men were notoriously difficult to buy for.
"The most common thing we hear is, 'He's got everything'," Thomas said.
AUT University advertising lecturer Paul White said Mother's Day tended to be pushed to consumers sooner and more intensely, but he doubted the large stores would let Father's Day pass them by completely.
THE AVERAGE SPEND
* $35 Father's Day
* $45 Mother's Day
* $55 Christmas Day