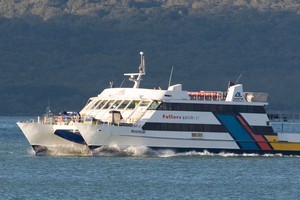 More than 300 passengers were evacuated from a Waiheke Island ferry when a small fire broke out in the engine bay today.
The 316 passengers and five crew members were transferred from the Fullers ferry, Jet Raider, onto another vessel about 12.30pm, northern fire communications shift manager Jaron Phillips told NZPA.
No one was injured during the incident.
Fire crews arrived at the boat on a police launch, he said.
The engine room was sealed by crew members and automated sprinklers had extinguished the flames by the time fire officers had arrived, Mr Phillips said.
Thermal imaging cameras were used to locate the source of the fire and to ensure all hot spots had been dampened down.
The ferry was on its way to Waiheke Island and was in between Motutapu and Motuihe Islands at the time, he said.
Fullers operations manager Warren Fowler said the company was yet to see how much damage the fire had caused.
Investigations into the incident were underway by Maritime New Zealand as well as Fullers, he said.
- NZPA