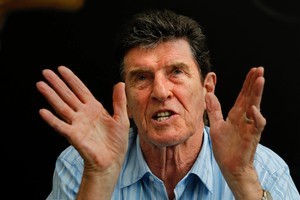 There must have been some very good reason for going to see Kevin Black. Now, what was it? And did I have an audience with Kevin, as he sometimes calls himself, or Blackie, as he at other times calls himself? And what's the difference between the two?
I did ask Kevin, or Blackie, a few questions but the one thing I learned was that you don't go to see him, or them, to ask questions. If you do, his default answer is: "Ask me about Joe Walsh." Do not under any circumstances give in. I now know more than I ever wanted to about Joe Walsh and I didn't want to know anything about him in the first place.
"But ... we're here to talk about me!" he said, not for the last time, and as though I was the one who had started talking about some old rocker. What can he be like to live with? That is another unanswerable question although at a guess: loud. "I've just got a produced voice. And I speak very loudly and with authority. It is, you know, a trademark."
In other words he sounds just as he did on the radio, on Hauraki, Classic Hits, then Solid Gold, in those halcyon days of rock radio when he was the most famous DJ in the country.
He left his last breakfast gig in 2009. He's rather vague on this matter (on this matter!) but something obviously went wrong. He says he wasn't hurt but was angry and I think he still is (and a bit hurt) despite the trademark bravado.
He still talks as though he's in the business: "I've been in the game for 47 years." He still talks as though he's on the radio and you're in your house, way across town - which you'd think might be a bit full-on first thing in the morning: he'd be announcing that the muesli was ready.
He said he had a big announcement to make. He said this when I first phoned him, some weeks ago. He said he'd call me when he was ready. He did, and left a message; I called him back and he said: "I'm ready!"
I thought his announcement must have to do with going back on the radio (possibly, probably not, never say never), or with his retirement career. His retirement career seems to involve sitting in his shed with two other blokes, drinking beer, and talking a lot. But somehow they have actually invented something: a malleable composite product called Nucleer, which he says will one day be what cars are made of.
So it's possible the big announcement could be that they've sold Nucleer to some big company for lots of dough. The answer to that is: Possibly. He can't say anything more just now and, anyway, I phoned him, according to him.
I have also "been after this interview for years", which was news to me. I asked him how old he was, because he's supposed to be funny about telling his age. He says he once put his age up by ten years, for a joke, and so it got complicated after that. "How old did I say the last time I saw you?" I've never seen him before, but in some parallel Blackie universe, I interviewed him when I was a cadet at the Auckland Star. I have never been a cadet at the Star.
But never mind; he's Blackie, or Kevin, and you can forgive him a lot and let me tell you, I did. Let me give you a tip. Should you ever meet either of them, and if either of them says the sky is green, just agree; it's easier that way.
Here's another tip: Don't bother asking him any questions. He'll either make up the answers, answer by way of a very bad joke, or ignore the question altogether and embark on a digressive story from about, oh 1903, which may or may not be the year he went to sea as a five year-old. "I'll give you a list of famous ABs: Jimmy Carter, Steve McQueen, Kevin Black, Ken Russell ..."
ABs are able seamen, and you'll have gathered he was one. He was a sea cadet at St Pat's College in Wellington when he saw a flyer for a Prince of Wales scholarship for navy college and pinched it. "So nobody else could apply. I shouldn't be telling you this." So there he was at five, I mean 15, on the high seas as a peggy.
Did I know what a peggy is? And why a peggy is called a peggy? In the "old days", if you lost a leg you couldn't be an able seaman because you couldn't go up the rigging so you became a peggy and did ship-keeping chores instead. Something like that. I had to fast-forward through all this sea-faring stuff otherwise I'd still be transcribing.
He got off a ship in London one day in the 60s, went to a pub and met a bloke who knew a bloke in pirate radio and that was the beginning of his radio career, but I got that from the clips because I wasn't about to ask. He seemed quite keen on the idea that we stay until 4pm (it was 11am) and get on the gin, but he's always had more stamina than normal people and being 67 doesn't seem to have slowed him down much.
As it was, I was tempted to say, "is there much more of this?", but I didn't want to hurt his feelings. I don't know why, really. He appears to be impervious to slights. He likes the sound of his own voice. He might be big-headed. He's said things like: "Blackie is big, a cult, a legend," and he didn't appear to be joking.
He couldn't remember saying this, but he shrugged and said, oh well, if he said it, he said it. (Most big shots would say they'd been misquoted, so hooray for him.) He says he was never an ego maniac, even if he has sounded like one. "And I'm not. You ask anyone who knew me."
Then: "Well, Blackie is one of the top three radio brands." So perhaps he really does regard Blackie and Kevin as different people. "Kevin can get hurt; Blackie can't. Blackie's more of an operator; Kevin tends to be a bit laid back. It's harder to become a friend of Kevin's than it is to become a friend of Blackie's." So perhaps Blackie's a bit of a blow hard, and Kev? "Plain old Kev is a real nice guy."
So that must be Kev, the sort of retired guy who potters around the gardens inside the gated community. And Blackie who says, by way of an opening gambit: "Do you want to see my Gigantica?"
What will we talk about? I'd asked, because I wasn't at all sure the big announcement would be forthcoming. "My life!" he said. "About how I went to sea."
He still goes to sea, every year, for a few weeks, on a container ship. What does he do on it? "Drink!" I'm sure he does, a bit, but I thought going away on a container ship was an oddly contemplative sort of holiday choice for a man whose career has been never shutting up. He says he reads a lot, but of course he goes with a mate and of course he finds fascinating people to talk to, including, once, the bloke who invented the 747 wing. I could tell you a great deal about the 747 wing, but I think I'll save that for his book.
His book! Is he writing a book? Perhaps this is the great announcement? He did mention, in passing , at about the speed of a 747, some book project. But he wouldn't be writing this book; I would be. Although I wouldn't get any credit: "You'd be good to ghost write it." Don't ask me what this book that I'm supposed to be ghost writing is about; I'll be the last to know.
Anyway, about his inventing life, what's his role? "I open the beers." Much has been made of his shed, where Nucleer was invented. No women are allowed inside the shed. This is because they once let two in and there was a fight. Also, "they want bloody Chablis in the fridge and I'm not having that". But, as a special concession: "You can be the third woman ever to go in the shed. Ta da!"
Let me tell you something about this shed: There is no beer fridge. Well, no, he said, pretty hang-doggishly, I thought, "because we've got the big fridge inside".
He is, like many ageing rock'n'rollers, conservative, and Conservative. He said, when giving me his address: "Bwing a Wange Wover." He lives in Victoria Ave, in Remmers. That was a terrible joke. He might be a bit embarrassed about the rebel rock DJ having ended up on Vickie Ave. I don't know about that either, because at first he said, yes, a bit, probably, and then he said, "I guess I'm proud of it as an achievement but I don't want it to be a measurement, right?"
He said, apropos of absolutely nothing: "Did I tell you I had lunch with John Key?" Why was he telling me? "Because I had lunch with John Key before he was the Prime Minister and I told him, 'One day you're going to be the Prime Minister'." Yes, but why was he telling me ? "Just proving I was right!" Perhaps he was telling me he was a National voter. "I'm a meritocrat ... so I suppose that puts me to the right of the socialists."
It's hard to figure out how wild he was. He has always liked a drink and he used to smoke a bit of dope, but he doesn't now. "Ask me about Joe Walsh! No, not really. But if Mick Jagger or Keith Richards came along and said, 'hang off the end of this'. Well!"
What on earth would he be like stoned? "Funny!"
He can be very funny. I'd met his dog on the way in, then it disappeared. On the way out, I said: "Where's your dog?" He said: "She doesn't like you." That was probably Blackie.
Why had I gone to see him? He said, with the air of a radio DJ about to make a very big announcement: "I'm going to show you something! You mustn't put this in the paper! Ta dah!" He showed me ... his gin cupboard. Four bottles! Do you know, I think he just wanted to show me something. He can be rather sweet, that Kevin.
And Blackie did eventually give me an answer to my first question: "I told you. This is going to be the greatest interview you've ever done." Did I mention that there is absolutely no point arguing with either of them?