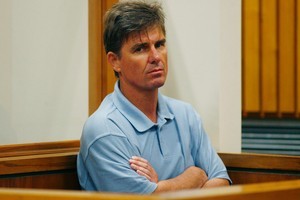 Lex John Miller, 44, was sentenced to seven years and eight months imprisonment in the Rotorua High Court. Miller kidnapped and attempted to murder his wife, whom he was separated from at the time. Photo / Sarah Ivey
A prisoner remains on the run from Rangipo Prison, near Turangi.
Lex Miller got away yesterday afternoon in a stolen 1994 silver Toyota Camry with the licence plate TC7281.
He's European and is 48-years-old.
He was last seen wearing a tan shirt and blue jeans with white running shoes.
Police say he was in jail for violent crimes and shouldn't be approached.
He may be heading towards the Whakatane area.
- Newstalk ZB