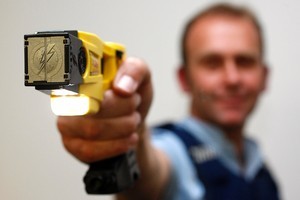 The Mental Health Foundation is calling for a formal review of police use of Tasers after figures released this week showed four out of 10 of those tasered in the past year were experiencing mental health issues.
But police say their use of force - including Tasers - against those suffering mental health problems is a symptom of a wider problem of how those people are dealt with, an issue they are already working with health agencies to address.
Numbers released by Police Minister Judith Collins this week showed that 37 of the 88 people tasered by police in the 11 months to August were "judged to be experiencing a mental health issue".
The figures were released in response to questions from Green MP Keith Locke, who was concerned police were too quick to use the 50,000-volt shock guns against people experiencing mental health problems rather than trying to calm them down verbally.
That was also the view of Mental Health Foundation chief executive Judi Clements.
"Keith Locke may be right that the de-escalation techniques aren't being used as much as they could be and police are using the Taser quite quickly.
"We were concerned from the beginning it would not be used as a last resort, it would become something that was normal in use.
"There should be a formal review. If we don't look at this seriously it could begin to go even higher," Ms Clements said.
Any such review should consider whether police training in de-escalation techniques was comprehensive and up to date and explore new approaches and arrangements between community health groups and police.
Superintendent John Rivers of the police Operations Support Group said he shared Ms Clements' concern about the number of people with mental heath problems being tasered.
But officers' use of force against them was "a symptom, not a problem".
"Why would you seek to review the symptom of the problem?
"The problem for me relates to coming up with better management of responses to people who are suffering a mental health crisis," Mr Rivers said.
That was the subject of "sustained focus" by police, who were actively seeking to collaborate with mental health agencies, lawyers and others.
That collaboration includes a forum in October organised by the Auckland District Health Board, mental health providers and lawyers.
Meanwhile, Mr Locke and Annette Sykes of the Mana Party have said the numbers have also borne out fears that Tasers would be used disproportionately on Maori and Pacific Islanders.
Forty per cent of those tasered during the 11-month period were Maori, an ethnic group that make up just 15 per cent of the population, while 18 per cent of those tasered were Pacific Islanders, whose ethnic group accounts for 7 per cent of the population.
However, Ms Collins and the police have said the high incidence of use of Tasers on Maori reflected "the sad fact" they were over-represented in crime statistics.