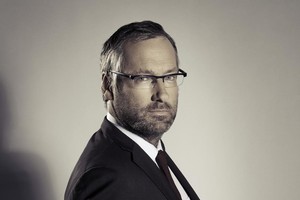 Comedian and TV host Jeremy Corbett has resigned from his position as More FM breakfast announcer after 18 years at the station.
Corbett had been at the station since its launch in August 1993, when he and Kim Adamson hosted its first breakfast show "Kim and Corbett in the Morning".
Since 2009, he has acted as host of successful weekly comedy show 7 Days.
More FM announced today Corbett would step down when his contract runs out in October.
Corbett said he was proud of what the station had become since its inception - but likened his relationship with it to that of a parent.
"Really I'm getting a bit sick of her borrowing the car and eating all the food in the fridge. It's time she struck out on her own."
More FM programme director Ande Macpherson said he was disappointed Corbett was stepping down.
"However, I have total respect for his decision and am glad that we can celebrate his longevity on the station with the listeners before he does hang up the headphones."
He said no decision had been made on Corbett's replacement.
- Herald Online staff