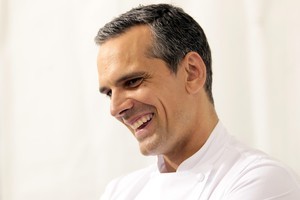 After 11 years working for Gordon Ramsay, MasterChef judge Josh Emett is going it alone.
The Waikato-born chef has just returned from searching for sites in London for the new restaurant and plans to open early next year.
"I have done some major openings but this one will be 100 per cent for myself, 100 per cent what I want to do and the sort of food I like cooking."
It came as maze and maze Grill - two Ramsay restaurants in Melbourne that Emett launched - went into liquidation.
However, Emett left the restaurants less than a year after their launch, along with general manager Enda Cunningham.
Emett said the pair remain in touch but said it was time to do his own thing. He wasn't deterred by the recent rioting in London, or the troubled economy.