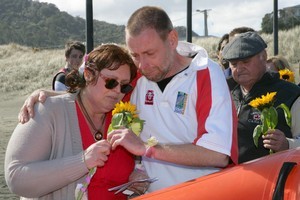 Family and friends have farewelled popular 19-year-old Piha surf lifesaver Jess Hosking - but the cause of her death in Paris remains a mystery.
A toxicology report was "all clear" of drugs, said Jess' mother Sandra Hosking.
French pathologists would do more tests over the next six months but nothing would bring Jess back, Hosking said.
"Will it change anything? No. She was an amazing kid and we are lost."
A passion for travel led Jess to Europe where she found a job in Paris as a nanny to two boys, aged 5 and 8. She died there in her sleep on August 5.
Jess had no known health problems.
"It's almost like cot death in an adult," Hosking said.
"She loved life and loved to party. She would laugh at herself and she would laugh with others."
Hosking said the Piha tribute was intended to honour Jess' life in a way the 19-year-old would approve of.
"Jess has been involved with water since she was 5," her mother said.
"She could swim at 2. She was a competitive swimmer at the age of 8."
A guard of honour was formed on the beach and a swimmer went out beyond the waves to scatter mourners' flowers in the sea.