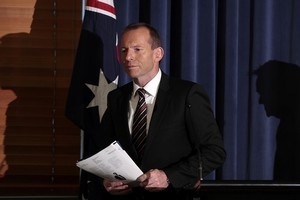 Australian opposition leader Tony Abbott has paid tribute to the New Zealand special forces soldier killed in a Taleban attack in Kabul.
Mr Abbott has spoken of the heroism of the Special Air Service (SAS) soldier, who is yet to be named, who was among nine people killed overnight in a raid on Britain's cultural centre in the Afghan capital.
"There's been another death in action in Afghanistan, not an Australian soldier but one of our trans-Tasman brothers ... who died heroically trying to rescue hostages in Kabul," he told reporters after addressing the State Liberal conference in Adelaide on Saturday.
"I just want to say on behalf of the coalition, our thoughts and prayers go out to the people of New Zealand at this moment.
"And I am sure the thoughts and prayers of every Australian is with our friends in New Zealand at this sad time."
Militants blasted their way into the British Council's Kabul compound before dawn on Friday, blowing up a car bomb at the gates and then detonating a second device.
At least four Taleban suicide bombers got inside, unleashing a series of explosions as foreign and Afghan forces engaged in fierce gunbattles for the next nine hours until all of the insurgents were killed.
New Zealand Prime Minister John Key has confirmed the soldier's death, but said he knew little of the circumstances.
"On behalf of the Government, I want to offer my condolences to the family of the soldier," he said.
Expressing his appreciation, British Prime Minister David Cameron thanked Mr Key for the role New Zealand's special forces had played in ending the raid.
It was the latest high-profile strike to underline fragile security in the Afghan capital as US-led Nato combat troops start leaving Afghanistan. They are all due to withdraw by the end of 2014.
A spokeswoman for Australian Defence Minister Stephen Smith later said Mr Smith had spoken with his New Zealand counterpart, Defence Minister Wayne Mapp, to express the Australian Government's condolences at the loss.
- AAP