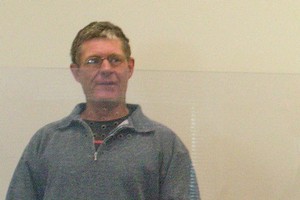 The former boyfriend of a woman who disappeared eight years ago on the Hauraki Plains has briefly appeared in court this morning charged with her murder.
Mark Pakenham, 49, is charged with murdering Kerepehi mother-of-three Sara Niethe on or about March 30, 2003 at his Kaihere home.
Pakenham, who had one female supporter with him in the North Shore District Court this morning, was remanded in custody.
He's due to have a bail hearing tomorrow.
Ms Niethe was reported missing when she did not return home after visiting Pakenham in Kaihere.
The last confirmed sighting of her was at Ngatea on March 30 when a security camera filmed her making a purchase while on her way to Kaihere.
She was expected to return that night to the home she shared with her mother, Eileen Marbeck, and her three children.
"Her failure to return home or to make contact was immediately of concern as it was so out of character," Detective Senior Sergeant Mike Whitehead said last night.
"One of her children was having her 10th birthday and Sara had made a booking for a birthday outing at a local cafe.
"An extensive search and police investigation failed to find or establish what had happened to Sara or the Honda car she was driving on the day she went missing."
The police investigation into Ms Niethe's disappearance has remained open, and was reviewed in full last year.
After that, an extensive re-investigation was opened, Mr Whitehead said.
"Evidence assembled by the investigation team was reviewed by the Hamilton Crown Solicitor before the decision to arrest the man was made."
In an exclusive interview with the Herald in May 2003, Mr Pakenham said he had been reluctant to talk about Ms Niethe for fear people would think he was trying to cover up something.
He met Ms Niethe at a party in Auckland, about six months before she disappeared.
He said they shared a "close friendship".
"People are going to judge me anyway, but I know in my heart how the truth is. I have nothing to hide," he said.
Mr Pakenham said Ms Niethe went to his home on March 30 and was her "normal happy self". They sat on Pakenham's deck and had a few drinks, and Ms Niethe decided to go home about midnight.
He told the Herald he was reluctant to speculate about what happened after she left his home for fear it would look like he was trying to divert attention from himself.
He suggested she may have stopped her car on the way home and been abducted.
"I don't know if it's anywhere near the truth ... It's taken its toll on me. I'm the last person to have seen her, and people think I have done something to her.
"I have even been to church and prayed for her and I'm not even a church person ... I feel like I'm responsible in some way because I let her go.
"I've been a nervous wreck. I have got to live the rest of my life knowing that Sara left my place and never made it home."