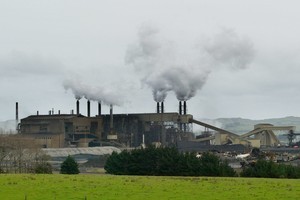 More than 850 NZ Steel workers are striking for 24 hours at Glenbrook and Taharoa in the Waikato, following a break down in talks over their collective agreement.
The Engineering, Printing and Manufacturing Union (EPMU) said the sticking point with NZ Steel was rates of pay and the use of contractors on site.
"If steel workers employed on site do not get a say on how contractors are used and paid, then the workers will find their own pay and conditions undermined,'' said EPMU senior organiser Stuart Hurst.
For members to strike was a serious step, he said.
"The site has enjoyed industrial stability for 20 years, and there have been no problems or difficulties during maintenance shuts or other times when contractors are needed.''
In a statement a NZ Steel spokeswoman confirmed that its employees were on a 24 hour strike, which was to finish at 7pm today. "Once employees return to work, we will continue negotiations to try to achieve a settlement suitable for all,'' she said.
Negotiations began in May, and a mediator has also come in on negotiations, without success.
The spokeswoman did not respond to questions about the union's claims or how production at the mills had been affected by the strike.
Owned by Australia's BlueScope Steel, NZ Steel is New Zealand's sole producer of flat rolled steel products for the building, construction, manufacturing and agricultural industries.
About 60 percent of the steel output is exported.
- NZPA