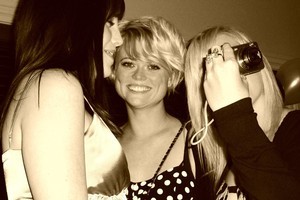 Fay Roberts spent the last six years of her life living her dream of being a hairdresser. She worked alongside her mother Karen at a salon they managed together and was popular with clients and her friends.
But her life was ended on Saturday night when she died in a car crash in South Auckland while she and her boyfriend drove home from a family gathering.
The 25-year-old "took the full impact" when the red Toyota Corolla they were in collided with a dark blue Suzuki Swift at the intersection of Mill Rd and Ranfurly Rd, in Alfriston, near Manurewa. The accident happened shortly before midnight when they were only minutes from home.
She died at the scene but he escaped without injury. A woman in her 50s in the other car was treated at Middlemore hospital with minor injuries.
Her father Harvey Roberts yesterday told the Herald there was never any doubt she was destined to be a hairdresser.
"Ever since she was 2 years old and she almost shaved the top of her head. I guess that's an indication," he said.
She had been in partnership at Pinnacle hair design with her mother since she was 19 - a commitment he was very proud of.
"It was a mother and daughter business. All the feedback we're getting from clients is how greatly they will miss her and her personality."
He said she was a very outgoing person who had a lot of friends. Originally from Britain, the family have been in New Zealand for 11 years.
The night she died she spent with family at their East Auckland home watching David Tua fight Monte Barrett. Her father said it was a typical family gathering and Fay was in "good spirits".
"We'd been together as a family. We'd been watching the David Tua fight and when she left the Tua fight to travel home [they crashed]."
Her family would now treasure those memories forever. Her younger sister Ruby, 15, was home but her brother Sam, 23, wasn't. The whole family would miss her terribly, he said.
Mr Roberts said he'd spoken to her boyfriend, who was the driver.
"I'm having some difficulty with that."
He said he knew her boyfriend was devastated because, "he loved her."
Mr Roberts said his daughter took the full impact of the collision.
Counties Manukau police serious crash unit is investigating and says it is too early to say if any charges would be laid. They have spoken to the boyfriend who they say is distraught but who was trying to help them.
Police would also like to speak to any witnesses.
If you can help police call Constable Andrew Petrie of the Serious Crash Unit on 09 262 9109.