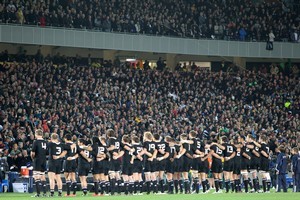 Public sector workers face strict checks on accepting Rugby World Cup hospitality from businesses, while politicians are mostly bound by their "common sense".
The World Cup has opened up many opportunities for corporate gifts - including to council workers, government agencies, state-owned enterprises and politicians.
A Herald survey found that a range of policies apply to public servants.
The Auckland Council is among the more liberal workplaces. All corporate offers are monitored, but staff have been advised that "generally no more than two games be accepted" - indicating some leeway.
Spokesman Glyn Walters said staff could not accept offers from firms involved in negotiations and they must give full disclosure to their managers.
"We approve all entries and monitor the register to ensure employees are not compromised," Mr Walters said.
"Acceptance means staff are there to represent council and act as outstanding hosts for Auckland, with a high standard of personal responsibility."
The Wellington City Council requires that all gifts to staff are declared - whether accepted or not.
So far, the council has accepted 140 tickets from Rugby New Zealand. The mayor and her husband will take two of the tickets to attend the final. The rest will be distributed to businesses and the community.
Government departments, meanwhile, have been told to clamp down on corporate hospitality during the World Cup.
The State Services Commission issued guidelines to all departments warning that the "acceptance of offers would risk compromising perceptions of public service impartiality".
The New Zealand Transport Agency said it was "inappropriate" for its staff to accept tickets, while the Ministry of Culture and Heritage said its staff could accept gifts only to support events funded by the ministry - and the World Cup was unlikely to count.
Police spokesman Jon Neilson said officers could accept invitations to sporting events from any organisation, though their attendance must be recorded in a register.
Mr Neilson said he was not aware of any police attending World Cup matches other than officers on duty.
In general, politicians have been given more discretion in deciding whether to accept corporate hospitality.
A spokesman for the Rugby World Cup Minister said Government ministers would attend the World Cup "primarily in a work capacity as hosts".
If they received further invitations from corporate businesses, ministers were expected to "exercise good judgment", the spokesman said.
All ministers must register any gifts over $500.
Government whip Chris Tremain said National Party MPs had been told to "use their common sense" on World Cup hospitality, and in an election year they were likely to be conservative.
He said he had turned down offers to go to the quarter-finals and had bought tickets to Napier matches.
Labour Party spokesman Trevor Mallard said its policy was "to use discretion and declare it all".
He said he had accepted tickets to the opening night, semifinals and finals from the rugby union and the International Rugby Board.
"The key is transparency. People should know [what you're accepting]," Mr Mallard said.
Green Party co-leader Russel Norman said public servants should be held to a consistently high standard and refuse corporate hospitality.
"I don't really see how it's in the public interest for us to be accepting gifts from corporates who want favours in return."