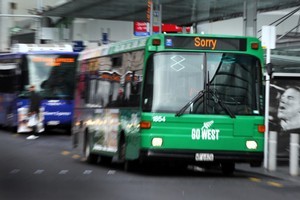 Ask one of the hundreds of Aucklanders for the reasons they pack up each year and head for a quieter town, chances are they will mention the city's transport problems. Sick of crawl-pace commutes to work, they head to places where traffic jams and a lack of a decent public transport aren't dinner-party conversations. It's not a new problem for Auckland and New Zealand's other major centres.
Leaders have talked for decades about creating an integrated public transport system that runs smoothly. They're still talking.
Less than a month out from hosting the country's biggest sporting event, observers wonder how our clogged motorways and inefficient transport services will cope. In the 1960s, Sir Dove-Myer Robinson, the city's longest- serving mayor (1959 to 1965 and 1968 to 1980) was campaigning for an electric rail system, believing it to be the key to solving Auckland's transport problems.
After studying successful services in Canada and the US, the mayor's vision was to develop a rapid-rail network with buses connecting to train stations. In 1973 the Labour Government agreed to fund a railway network between Auckland and Papakura, and an underground rail loop from the central city to Newmarket.
The proposal also included an underground station on the Britomart site. However, three years later the-then National Government considered the project to be too expensive and cancelled it. Since then public transport has always been on the local government agenda.
Mayoral hopeful John Banks' master plan focused on an improved rail service, including an inner-city loop and airport link. He wanted to see central city stations and an integrated ticketing system.Increased ferry connections and improved cycleways were also part of the plan. Many Aucklanders, including Banks, attribute his failure to land the Supercity top spot to the ambitious plan.
"The people kicked my arse right out of the mayoralty," he said this week but declined to discuss it further. "I spent two mayoralties building transport infrastructure around Auckland. I think I'll leave it to the new mayoralty."
Auckland's mayor Len Brown puts a more positive spin on the Supercity's public transport services. More people are using the system, an increase of 8 to 10 per cent a year, he says. Some bus and train routes are up to 30 per cent. Ferry use is up 7 to 8 per cent. The introduction of the Hop card and the rising cost of petrol has contributed to the increased number of people choosing to leave the car at home, says Brown.
He argues that delays are rare in his experience. In taking the train to work one or two times a week in the past year, he has only been delayed once. But he admits a number of services are "at critical point".
Trains in and out of Britomart are full and reliability is a key issue, he says. Electric trains are expected to be running within the next three years, including an inner-city link. Brown says the council is considering extending North Shore bus services and increasing the frequency of ferry services to boost numbers.
"We're building infrastructure that is more user-friendly and operates on time so people can finally trust and rely on it," he says. The aim is to offer a world-class public transport system like that in cities such as Brisbane, Melbourne and Sydney. Right now the focus is on the Rugby World Cup, using the transport system to get people to and from Eden Park and North Harbour Stadium.
Streets around Eden Park have received a multi-million dollar upgrade ready for large numbers of pedestrians. Stations have received, or are getting, makeovers. At Kingsland station, 15,000 fans are expected to board trains back to the city within 75 minutes of the end of matches, according to Auckland Transport.
When the All Blacks beat the Wallabies in the Bledisloe Cup clash last week, pre-game public transport ran smoothly. But hundreds of fans were left frustrated when there were delays in boarding post-match trains to downtown Auckland.
The cause was a train breaking down at Morningside just before the game ended, according to MAXX. About 47 per cent of the crowd used public transport to get to the match - the highest number to date, said Auckland Transport spokesman Wally Thomas.
A limited time travel card targeted at tourists called the A-PASS will also be launched for the event, available from September 1 until October 24. For $15 a day, it can be used for unlimited travel on buses, trains and some ferries and for discounts at a number of city attractions. Wellington boasts the highest number of commuters using public transport, with 17 per cent of workers using buses, trains and trolley buses every day.
The condensed central city makes it easy to get around on public transport, says mayor Celia Wade-Brown. Parking is limited and "relatively expensive", which encourages people to choose other options, she says.
However, there are ongoing issues with transport reliability, and the council needs to invest in infrastructure to improve the existing service, says Wade-Brown. Busway and light-rail options will be explored as part of a $1m transport study underway.
"I would love to see light rails for railway to the east, Hutt corridor and Johnsonville line." Dunedin has spent $35m on improving its bus-only public transport since 2007. Almost all buses can lower for wheelchair-users and elderly passengers, and the quality of service has improved, says Otago Regional Council spokesman Fraser McRae.
In future, the council plans to increase passenger information about routes, extend services and upgrade bus shelters, he says. Cycle Action Auckland spokesman Bevan Woodward agrees transport is central to the function and enjoyment of a city, but says the direction of services needs to change. In Auckland there is little for cyclists to celebrate, he says.
There are not enough cycleways and traffic travels too fast in the central city. Woodward recommends following Europe and Australia's lead where speed limits are between 30km/h and 40km/h in some CBDs and extending the number of cycleways.
"We're still operating in a 1950s mentality where we add on more lanes and make the traffic go faster," he says. "It's a very narrow vision."
Sporadic services draw criticism
Jessie O'Connor found public transport efficient and reliable during three years spent living in London and Austria. Since returning to Auckland two years ago, the account manager has not been quite such a fan.
"Trains are a little bit sporadic when they arrive so in rush hour there are days when things are delayed and you don't get to work on time," she says. By comparison, train services in London and Austria in particular had been "brilliant and efficient".
O'Connor, 35, spends $110 for her monthly Auckland train pass to make the daily trip from Panmure to Britomart. Although she thinks the price is fair, the infrequency of trains means they are often overcrowded at rush hour, making the trip uncomfortable.
On a recent morning journey into the city, several angry commuters complained to the conductor about the overcrowding, she says. O'Connor is also frustrated about the lack of trains running at weekends because of maintenance.
"You can't rely on it. Maybe they should do maintenance at night."
Dubliners Hannah Lawlor and Jeanette Whelan are impressed with our trains but find buses unreliable. The 24-year-old friends moved to Auckland three months ago and use public transport mostly to get to their part-time jobs.
Lawlor uses buses to get to temp work around the city, but often chooses to walk rather than risk take the bus. "They are shockingly bad at time-keeping and reliability. It's affecting my work." Recently she waited at a Mission Bay bus stop for 45 minutes until a bus turned up.
Cost is also an issue to consider, they say. In Ireland, the maximum ticket price is $4.40 for up to an hour trip, compared to $4.50 to get from Auckland's CBD to the North Shore.
Whelan, a bartender, has used the train to get to rugby games and found them reliable but overcrowded. The pair plan to use public transport to get to Rugby World Cup games and hope they won't be let down.
Short changed
Abby Gillies and a grumpy bus driver have a bad day
It only takes one bad experience to put you off using public transport.
One cold Friday after work I waited in town for the 974 bus to Beachhaven on the North Shore. Fifteen minutes later I leaped eagerly into the warmth of the bus, armed with a $10 note to pay for my $4.50 fare. I would soon be home. But the bus driver-from-hell had other ideas. When he saw the $10 note, he let loose. No, he couldn't give me change, just like all the other people who got on his bus with $10 or $20 notes and expected change. I'd have to get off, he told me aggressively, and wait another 15 minutes for the next bus.
I wasn't about to go back in the bitter cold, so we argued back and forth - he saying that I couldn't stay on the bus and me replying that I was trying to pay my fare and it was his problem if he didn't have change.
Just when I thought I'd have no option but to retreat back into the night, a passenger at the front dug around in her purse and offered to pay my fare with the exact change.
"I can't let you go back out into the rain," she said. I thanked her profusely and tried to give her my $10 but she refused to take it. Heading for my seat, I told the driver I would be making a complaint. But he had me in his line of sight, yelling at me after I had sat down and eyeing me angrily in his rearview mirror.
"What do you want me to do? What should I do? Go ahead and make a complaint," he ranted. Other passengers whispered to me across the aisle the driver had treated others before me in the same way when they tried to pay with notes.
By the time we approached my stop I was the only one on the bus. Alone with an angry, bullying driver, I became increasingly scared. As a parting slap he deliberately drove on past my stop so I would have further to walk home in the rain, even though I pressed the stop button well in time. I couldn't get off fast enough. But for every bad experience, there's a good one to balance it out. As I'm telling my story in the office, a colleague tells of a school bus driver asking teenage passengers how close they lived to the bus stop one cold, rainy evening. He then drove past the allocated stop to drop them off so the grateful girls wouldn't have so far to walk to their St Heliers homes.