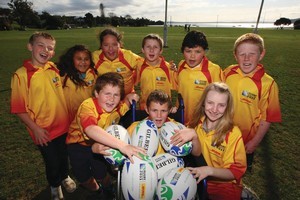 Thirty-nine youngsters from around New Zealand have been picked to become Rugby World Cup stars, delivering match balls before thousands of spectators.
Among them is 8-year-old Jamie Orton, from Auckland's North Shore, who will carry the ball on to the field at North Harbour Stadium on September 22, when South Africa face Namibia during pool play.
"He's just so excited. He's rugby mad," said Jamie's mother, Samantha Martin.
Friends from overseas might see him on television - "he will bean international star," Ms Martinsaid.
Jamie watched the All Black test at Eden Park last week and saw the job he had to do.
He was not the type to show off and was getting quite nervous, Ms Martin said.
"He's just told his whole class and is writing letters to everyone about it."
The children won their chance to carry the match balls through a campaign by DHL, an official partner of Rugby World Cup.
The online competition was entered by thousands of children.
Tana Umaga, the firm's ambassador for the competition, said: "This is a once-in-a-lifetime opportunity for these lucky kids to be a part of New Zealand's sporting history."
The prize also includes tickets for the child and a parent to stay and watch the match after the ball delivery has been completed.
"The prize is a money-can't-buy opportunity for a Kiwi child to play a special part in Rugby World Cup 2011," said DHL's senior vice-president for Oceania, Gary Edstein.
The ball kids for the Eden Park and North Harbour games will be: Ben Freebury, from Takapuna; Justin Cawood, from Stanmore Bay; Riley Francis, from Swanson; Harry Orton, Jamie Orton, from Stanmore Bay; Tennessee Ieremia, from Otahuhu; Akita Papara, from Remuera; Demi Tiller, from Pukekohe; Jaxon Laybourn, from Franklin.