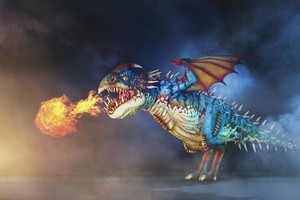 Here be dragons - the creators of the record-breaking show Walking with Dinosaurs have announced a fire-breathing follow-up which is swooping into Auckland in the new year.
The show, How to Train Your Dragon: Arena Spectacular, uses the same technology that brought life-size dinosaurs to life before big crowds at Vector Arena last month.
Adapted from the animated movie How to Train Your Dragon, the live show will feature 24 dragons, some with wingspans of up to 14m, as well as a cast of Viking warriors and villagers and acrobatic performers.
Each dragon weighs about the same as a family car and takes a crew of three to operate.
The creatures, which were unveiled by Global Creatures in Melbourne yesterday, start their world tour in Australia before heading to Auckland next April.
Ticket prices and exact dates are still to be announced.
For more details
See Thursday's TimeOut.