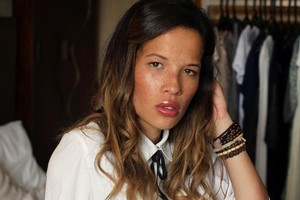 New Zealand's Next Top Model winner Danielle Hayes has appeared in a topless photo shoot, prompting both compliments and condemnation.
The images by Auckland photographer Damien Nikora are posted online and in four of them Hayes exposes her breasts.
New Zealand fashion blogger Isaac Hindin Miller criticised photographers for taking advantage of new models.
"All I can say to any young girls thinking about getting into the business is that your bare breasts aren't going to get you a job," said Hindin Miller.
"It's not art and it's not fashion, it's an excuse for heterosexual men to see you naked in the name of art or fashion."
A spokeswoman for TV3 said she would not comment on photoshoots outside the show, but said "TV3 is delighted by the success she has achieved since the series".
The show came under fire last year for a shoot in which some of the girls posed topless in mudpools.
TV3 ensured the breasts were obscured when the show went to air, but it still prompted a Broadcasting Standards Authority complaint that the teenagers were being "exploited".
The BSA rejected the complaint, saying the nudity was effectively masked by the mud and the steam rising from the pools.
This time, there is no attempt to hide Danielle's nudity. Nikora said the shoot was to prepare her for the European high-end fashion market and make her "more edgy".
It was his second shoot with Danielle, 20, but the first where she took her clothes off.
"She came round home about three months ago. We became friends straight away. In the first shoot she was still pretty green and harder to work with but this time it was different - she was more intuitive and a lot more mature with her own identity.
"Why I shoot a lot of stuff like that is so models can learn to get rid of any inhibitions or concerns about their body. Afterwards they are a lot more confident about their bodies," he said.
Danielle was very happy to be photographed topless and was pleased with the results, he said.
Barney McDonald, the former editor of Pavement magazine who caused controversy by publishing naked pictures of teenage girls, said the images would help Danielle get work in Europe.
"Getting your tits out is incredibly edgy and polarising and well worth doing. She is provoking people into thinking and talking," he said.
Danielle's agent at 62 Models, New Zealand's Next Top Model judge Sara Tetro, said, "Danielle did that shoot independently from 62 with Damien, who is a close personal friend of hers."