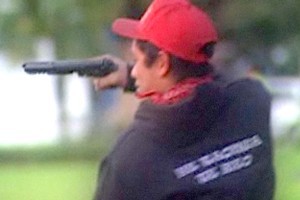 TVNZ is facing a fresh wave of criticism over its journalism after allegations Close Up supplied a Kawerau youth with a pistol for a story on the mill town's problems.
The claims - which have been rejected as "egregiously wrong" - come after Close Up was forced to apologise last month for copying a story from a US network.
Reporter Jehan Casinader's opening voice-over begins: "A teenager waving a gun in broad daylight ..."
Mayor Malcolm Campbell said there had been discussion in the town that Close Up had planted the gun, but he was not convinced it was true.
"There is some talk that the young boy was supplied with the gun. The word out on the street is that this is what's happened."
Police have determined the gun was fake.
Kawerau Senior Sergeant Mark van der Kley said the youth claimed he had picked it up outside a bakery.
Mr van der Kley said police did not wish to speak to TVNZ at this stage.
Mr Campbell believed the youth was with a group who had been smoking in the courthouse and were asked to leave minutes before they were filmed.
"I think it was a bit foolish to film a youngster with a gun in his hand - and I think that's where they need to question their ethics."
But TVNZ rejected any suggestion that the scene was staged.
"There is no documentary evidence to support the claim the boys were egged on by our reporter or cameraman," spokeswoman Georgie Hills said. "It may not be the image the town wishes to project to the world, but the clip wasn't set up in any way. It was unbidden and unscripted footage caught on camera. Any suggestion to the contrary is egregiously wrong.
"Close Up broadcast the footage because it showed that these teenagers were willing to publicly and brazenly brandish a weapon, albeit a fake one, and that they were carrying this item on their person."
Mr Campbell said the town had reacted with disappointment at the story, which ran over two parts.
"I don't think we got a fair hearing. [Casinader] said he would give us a balanced hearing. Half an hour one night and 10 minutes the next isn't balance in my book and we are all feeling a little hurt about that."
Last month, Christchurch police were investigating the Sunday programme after it ran a story about an autistic man accused of looting after the Christchurch quake.