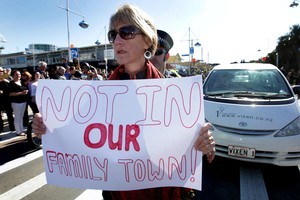 Protesters squared off against paraders during a topless tour in Tauranga yesterday, as spectators lined streets for pornographer Steve Crow's "Boobs on Bikes" tour.
As revellers jeered, whistled and filmed from the footpath, protesters tried to chain themselves to a pedestrian crossing, and another group used a pedestrian crossing to protest with placards.
The hold-up drew a cacophony of angry motorcycle revs from the procession before police intervened and pulled protesters from the crossing, with a few attempting to resist. No arrests were made.
A Tauranga webcam at takeabreak.co.nz appeared to have deleted footage of the parade.