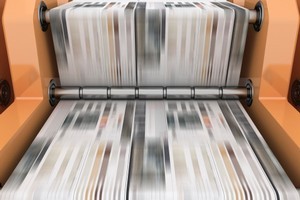 Fairfax Media's four afternoon newspapers are likely to be published today, after a serious computer fault prevented many of its morning mastheads going to print.
Fairfax Media chief executive Allen Williams said The Waikato Times, the Manawatu Standard, the Nelson Mail and the Marlborough Express would each produce a 12-page broadsheet newspaper.
Morning papers, The Dominion Post, The Press, The Southland Times and The Timaru Herald were not published today, while the Taranaki Daily News printed a modified edition using a different computer system.
A major IT system failure caused problems for Fairfax's key editorial and advertising production applications. This afternoon's newspapers would use an alternative production system.
Staff were working to diagnose and remedy the system fault.
It was bitterly disappointing not to be able to publish the morning newspapers, Mr Williams said.
"We sincerely apologise to all our readers and advertisers who have been affected today.
"We take great pride in producing our titles and staff across New Zealand worked through the night to fix the problem, but we ran out of time.
"The failure to produce these papers is unprecedented and we are doing all we can to get our system working again."
There was no indication how much this would cost the company at this stage, he said.
"We haven't looked to assess that, we will do that as each site comes back online this morning when we get a better understanding of what's happened."
On the Press website, editor Andrew Holden said in a statement the main production system for all Fairfax Media group papers in New Zealand failed at 4.15pm yesterday.
The last time The Press was forced to cancel an edition of its paper was in 2009, due to a fire in the press hall of the paper's city-centre building, Mr Holden said.
Even the massive earthquakes of September 4 and February 22 earthquake did not stop The Press from publishing.
Fairfax, which is Australia-owned, owns a range of New Zealand daily, weekly and community newspapers.
- NZPA