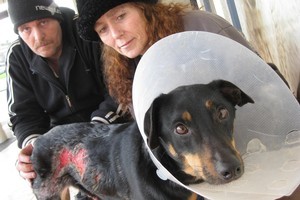 A Whangarei woman has slammed a "heartless animal abuser" who she believes attacked her dog with a substance which caused her flesh to be "eaten away".
Onion, the 3-year-old huntaway-cross, is recovering from a 30cm wound on her torso.
Nicole Morton, of Otangarei, broke down in tears as she described the suffering of her "best friend".
She said paint-thinner or something similar was poured on her pet.
"Whatever they put on her has gone through around four layers of flesh and it just keeps eating away at her. I've spent days lying in bed by her side while she cries and cries."
It is not the first time the dog has been attacked.
"She has been stabbed in her back and had her paw cut open - she has gone through all these miserable things and she has survived," Ms Morton said.
"The vet told me she's at her worst stage but I have to apply Cetrisol V4 cream daily and she's on antibiotics.
"It'll take several months to heal and she'll have a big scar."
Ms Morton is convinced Onion, "a well-known roamer around the Otangarei area", was deliberately hurt and she wants the culprit to pay.
"Onion has been by my side and been my strength for two years. She has looked after me and now I'm struggling to make her better.
"I just want people to know how cruel they are," she said.
"They should suffer in some way because they have made her suffer."
Ms Morton's friend Charlie Nutley said Onion was targeted because she draws attention to thieves by barking.
Whangarei SPCA inspector team leader Michelle Potter said the cause of Onion's injury was unknown.
"We have no idea what has happened to that dog and there's no proof as to what could've happened," she said.
Under the Animal Welfare Act, those convicted of wilful ill-treatment of animals can be fined up to $50,000 and jailed for three years.
"It's pretty serious. Onion could be considered disabled because the skin will be sensitive forever with that scar tissue," Ms Potter said. "If someone were behind this - that's what they could expect."
- APN