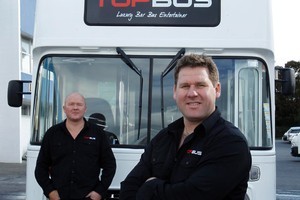 Celebrities and hardcore party-goers know it as the love bus that dispensed gold-coloured condoms - but the double-decker "Topbus" is now New Zealand's first luxury nightclub on wheels.
Owner Craig Nicholson, 40, quit his flamboyant London lifestyle of promo girls, celebs and wild parties last year to bring the $400,000 mobile bar to Auckland.
Ten years ago Nicholson and a high-school friend, Mark Kemps, moved to London with only a few thousand pounds in their pockets.
Instead of spending it on rent each week, the duo bought a 1974 Bristol bus for 2000 pounds ($3750), which became their home for the next six months.
They ripped out the interior and installed a spa pool, kitchen, bathroom, two bedrooms and a lounge.
Then Durex condoms spent 10,000 pounds ($18,770) to decorate their bus and send them on a six-month tour around England and Spain, and on to the party island of Ibiza.
They handed out 250,000 condoms on their way.
The pair drove it from Bilbao to Barcelona in two days.
"It was like a three-month summer holiday," Nicholson said.
Popstars Robbie Williams and Geri Halliwell, and EastEnders actor Joe Swash were among those to stop by.
Rock band Oasis were due to step on board to watch a cricket match, but that weekend the volatile Gallagher brothers, Liam and Noel, decided to go their separate ways.
Nicholson brought the bus back to New Zealand last August, at a cost of $35,000.
He has teamed with another school friend, Steve Hampsen-Tindale, and together they have created Topbus.
The 4m-tall double-decker has two lounge bars, leather couches to seat 36 people, two plasma televisions, a sunroof and a spa pool that fills in five minutes, using water stored underneath the bus.
An hour cruising will set punters back $650, excluding alcohol.
Nicholson says the party bus has been booked for school balls, work functions, a wedding - and to carry 36 Englishmen during the Rugby World Cup.