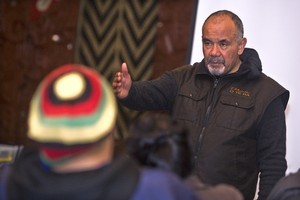 Maori Party MP Te Ururoa Flavell has apologised for his controversial remarks about suicide.
In a Rotorua Daily Post newspaper column last week, the Waiariki MP said a "very hard stand" was needed on suicide.
"If a child commits suicide, let us consider not celebrating their lives on our marae; perhaps bury them at the entrance of the cemetery so their deaths will be condemned by the people," he wrote.
Community suicide action groups criticised the comments, saying what he suggested would cause more pain for the already-grieving families of suicide victims.
Mr Flavell resiled from the comments slightly yesterday. In a statement to the newspaper he apologised for any offence caused by his comments.
He said he wrote the column after return from the tangi of a young man, and it was in response to the pain he saw the family suffering.
"I wrote the column to bring attention to this issue and provoke discussion and debate," he said.
"I do, however, understand this is not the only way to address this issue."
Mr Flavell said that since writing the column he had heard of practices at marae where tangi of suicide victims were shortened.
"Similar to what was suggested in my column, these are things to consider and discuss, not for me to enforce."
- NZPA