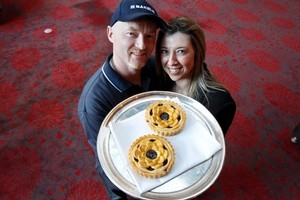 The classic meat pie has been ousted as New Zealand's best - in favour of a fruity port, plum and apple creation.
The pie yesterday beat more than 4000 other entries at this year's Bakels New Zealand Supreme Pie Awards. It was only the second time in the awards' 15-year history that the top spot has not gone to a savoury pie.
This year's Supreme award-winner, Kathy Kearns, said the idea of combining port, plum and apple to make the filling came to her in the middle of the night.
Her husband, Shane Kearns, of Viands Bakery in Te Awamutu, made the pastry, baked the pie and created the intricate floral design on the crust.
"I woke up and thought 'right, port wine and plum', so I woke Shane and told him, and he said, 'Yes, plus apple'," Mrs Kearns said. "Our pie was inspired by winter. It also contains cinnamon, orange zest, vanilla paste and a lot of orange juice.
"I kept tasting and refining it as you can't have the port wine too strong."
Last Thursday, more than 18 judges blind-tasted the 4400 entries to the competition's 11 categories.
Judge James Buckrell, of BJs Bakery chain in Hastings, said quality of New Zealand pies was on the rise.
"A lot of bakers have stepped up their act, and the flavours were really beautiful," he said. "Pies have stepped away from being a lower item into a gourmet item."
SUPREME AWARD
Shane Kearns, Viands Bakery, Te Awamutu (also won gourmet fruit).
GOURMET MEAT
David Liem, Greenland Bakery & Cafe, Botany.
OTHER CATEGORY WINNERS
* Mince and Gravy: Ian Holloway, Hollies Bakery, Hastings.
* Steak, Veg & Gravy: Jenny Ly, Penny Lane Bakery, Onehunga.
* Chicken & Vegetable: Neville Jackson, Jackson Bakery & Cafe, Havelock North.
* Vegetarian: Bunnarith Sao, Dairy Flat Bakery, Albany.
* Bacon & Egg: Brent Hughes, Pukekohe Pak N Save.
* Mince & Cheese:Brent Hughes, Pukekohe Pak N Save.
* Steak & Cheese: Ian Holloway, Hollies Bakery, Hastings.
* Seafood: Gold Award, Pukekohe Pak N Save.