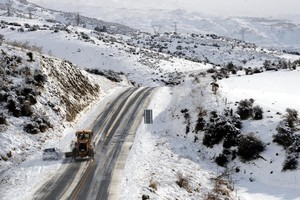 A grader clears snow past an abandonded car on SHW8 between Alexandra and Roxburgh. Photo / Supplied
About 100 skiers have been stranded on a Canterbury mountain after heavy snow made the road out of the area impassable.
The skiers will stay at the Mount Lyeford ski field, 60km south west of Kaikoura, for the night, a worker at the lodge told Radio New Zealand.
The wind blew the snow onto the road and staff could not work fast enough to clear it, he said.
The decision was made to keep the skiers at the lodge until the situation could be reassessed in the morning.
- NZPA