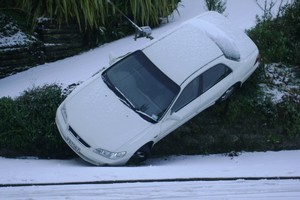 A polar blast hitting the country is causing chaos on roads in the south, and has even triggered predictions of a dusting of snow for ranges around Auckland.
Temperatures in the South Island are barely above zero today, and the Metservice is warning the "significant winter weather" will hit many parts of the country unfamiliar with the white stuff.
WeatherWatch.co.nz is even forcasting snow to fall on the Hunua ranges south of Auckland on Monday, with sleet on the tops of the Waitakeres.
The southerly is already creating headache for motorists - and those charged with rescuing them.
Queenstown police say they have been run off their feet so far today dealing with weather-related issues.
A police spokeswoman says there's been numerous callouts to help with traffic problems caused by snow and ice.
Police officers have been assisting with towing vehicles out of ditches.
Queenstown Airport is closed this afternoon with all flights in and out either cancelled, diverted or delayed.
Police communications staff say they have also dealt with numerous calls from people in Dunedin because of the ice and snow.
The city has been blanketed in snow within the past hour, and the main highway north of the city has now been closed.
Snow in strange places
Wellington's hilltop suburbs are likely to be dusted with snow, while up to 15 centimetres is expected on the Rimutaka Hill Road north of the city from 9pm till midday tomorrow.
Snow is also expected in Gisborne, Hawke's Bay and about the central North Island high country from Taupo to Taihape, including inland Wanganui and Manawatu.
The Metservice warns heavy snow in these regions is likely to cause major disruption to traffic and make driving conditions very difficult.
Police in Alexandra say heavy snow and ice is affecting most roads in Central Otago and are asking people to stay home.
State Highway 8 from Lawrence to Milton has already been closed due to snow.
Ranfurly to Naseby on SH 85 (also known as the Pig Route) is currently open but heavy iced over and chains are essential for all vehicles.
The Metservice says most of the South Island is likely to be blanketed as snow falls to low levels in the south and east of Island and also Nelson.
Significant accumulations of snow are likely in Fiordland south of
Manapouri, Southland, eastern Otago from Dunedin to Clutha, north
Canterbury, Banks Peninsula and Kaikoura.
Trampers rescued
Two trampers who became trapped in a blizzard in the Tararua Ranges near Otaki were rescued last night.
The Kapiti Coast couple, aged 30 and 20, were guided out from the sub-alpine Kime Hut by search and rescue workers.
Sergeant Noel Bigwood of the Levin Police said the inexperienced trampers would get a "talking to" about their lack of preparations.
Weatherwatch analyst Philip Duncan said it was the first time he had ever seen snow forecast for some regions.
"You don't associate Palmerston North, for example, with snow. It will be borderline between rain and snow.
"Most people might not know it has happened, or it may happen overnight," Duncan said.
And temperatures would certainly be icy, he said.
In the North Island, temperatures were expected to drop below 10C tomorrow, making it one of the coldest days this year.
Polar air blew up directly from Antarctica last night.
It was due to hit the South Island before making its way up the North Island today. "You have the wind chill as well," Duncan said.
"That means you remove another four degrees off the daytime high for that chill affect when you're standing in the wind."
"There will also be flight cancellations and delays, especially around Southland, Otago and Wellington across Sunday and Monday," Duncan said.
Got snow? Grab skis!
Meanwhile, ski fields were brimming with skiers and snowboarders during the first week of school holidays.
Nigel Kerr, from Wanaka's Treble Cone ski field, said they opened their second carpark yesterday, which had been closed due to the possibility of an avalanche.
"When we opened [at the start of the season] we had just over 2m of snow at the base.
"There was also a slope overlooking the lower car park, which was being threatened," Kerr said.
Mt Ruapehu riders were showing off their freestyle skills at Turoa ski field yesterday at the Nitro Elan Jib Nationals competition.
Police chase an icy affair
Police an 18-year-old led police on a dangerous chase through icy roads after they clocked him doing 171km/h.
Labourer John McCleary was charged with dangerous driving and failing to stop after allegedly speeding past police on Pleasant Point Highway, near Timaru.
Sergeant Ian Howard said police chased McCleary's 1996 Nissan Silvia for about 12km before he came to a halt at an intersection.
- Additional reporting John Weekes