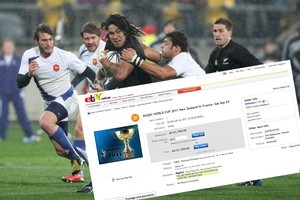 Ticket scalpers are selling Rugby World Cup tickets for thousands of dollars more than face value on international trading websites, but are being kept at bay locally under strict legislation.
More than 200 tickets for a range of Rugby World Cup games are for sale on three eBay websites, by French, Canadian, American and Australian ticket holders.
Yesterday, there were 27 ticket listings on Australian eBay, 50 on Canadian eBay and 50 on American eBay.
One Australian scalper, using the name 6585adam, was auctioning one Category B ticket for September's New Zealand vs France match for at least A$1750 ($2198) - $1840 more than the face value of the tickets.
Official tickets are sold through three sources - the Rugby World Cup 2011 website, travel agents offering travel and ticket packages and corporate hospitality agents selling accommodation and ticket packages.
Rugby New Zealand communications manager Clare Wolfensohn said it was a case of buyer beware if people decided to buy tickets from other websites or sellers.
"We do warn people that if they don't get tickets transferred or buy through the official channels then we can't validate the tickets and we can't guarantee that when they get to the stadium that they will be able to get in."
Tickets could be transferred to a known person at face value, she said, and there was no formal resale process. This applied to all tickets no matter where they are in the world.
Fans would not have to show ID when entering the stadium and would not be required to prove that the ticket was theirs, said Ms Wolfensohn.
About 1 million of 1.6 million tickets have been sold. The tickets left are mostly expensive ones to big games. Four of the 48 matches are full and only one of the All Blacks' four pool matches has sold out.
The New Zealand online ticket market is being closely monitored for scalpers as it is illegal under the Major Events Management Act 2007 to re-sell a tournament ticket for a profit in New Zealand. Scalpers can face a fine of up to $5000.
Local online auction site Trade Me decided not to allow any listings of Cup tickets said its trust and safety head, Jon Duffy.
"It's too risky. We regularly monitor the site to detect whether World Cup tickets are listed."
He said the site has had to pull two auctions. One was for a cap with Cup tickets included, the other was for semifinal tickets at $150 more than the original sale price.
Aucklander Colette Pithie was frustrated at the news overseas scalpers were making money on in-demand tickets.
The 25-year-old tried to buy tickets for the New Zealand vs Tonga and New Zealand vs France games in the final RWC 2011 release on July 4.
"I couldn't get them. I got nothing."
Unless a friend or relative had an extra ticket, she would have to watch games at a local bar, she said.
"I guess you could look at purchasing [tickets] overseas but if they are going to be extortionately priced, what's the point?"
RWC ticket rules
You can transfer a ticket to someone you know at the original value.
You can keep your name attached to the ticket even though it's transferred.
You can legally sell the ticket for a profit overseas.
You can't sell a ticket for more than original cost in NZ.