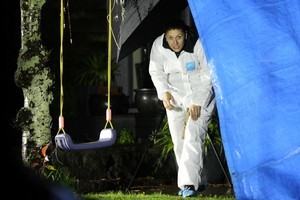 Police cordoned off a St Heliers Bay house yesterday following the death of a 72-year-old man and asked neighbours if they had heard gunshots.
The man was believed to have been visiting his daughter, who lives at the Maskell St property.
Officers put up a tarpaulin shielding the path and entrance to the house from view.
Police could be seen taking photographs of the ground and forensics staff carried away items in plastic bags.
A neighbour, who asked not to be identified, told the Herald police had asked if he heard gunshots. He said he had heard nothing until the police sirens.
A hearse took the man's body away at 8.30pm. Police had been at the address since early afternoon.
Detective Senior Sergeant Kevin Hooper told the Herald police didn't know how the man died but hoped it would become clear after a post-mortem examination this morning.
Officers were being cautious in securing the house - and potential evidence - in the event the autopsy showed something "sinister".
Mr Hooper said the death had been referred to the coroner.
Family members had been interviewed but police still had more people to speak to.
The house the man died at is the address of the Visage talent agency.
Its website says it is one of New Zealand's oldest and largest talent agencies offering a huge range of actors/models, extras, children and presenters for all media requirements.
A neighbour thought the woman who lived there with her young daughter had recently divorced.
- Staff reporters