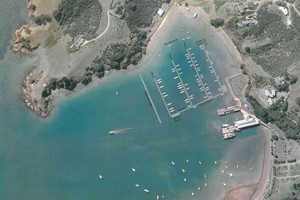 Retired hi fi businessman Graham Guthrie wants to build a $10 million marina at Matiatia on Waiheke Island.
"I have never done anything like this before, I just simply want a place to park my boat," said Mr Guthrie, a former owner of Smiths Sound in Mt Eden.
With just 45 moorings at Matiatia - the main entrance to Waiheke Island - Mr Guthrie said he had about 220 people anxiously awaiting a marina berth.
"We have got a lot of people living on the island who have got boats and unfortunately they can't keep them here because there is no place to park them."
Rather than pocket a "huge fat developer's margin", Mr Guthrie said he planned to break even by selling each of the planned 160 berths pro rata.
First, he must obtain a coastal permit and yesterday a resource consent application was publicly notified for the "non-complying activity".
The proposal is for a marina immediately north of Matiatia Wharf, involving extensive dredging and earthworks, reclamation to build a carpark for 50 vehicles, five floating piers and a 150m long floating wave barrier.
Mr Guthrie was sure there would be some opposition to the project, but hoped it would go through "because at the end of the day it's a very sensible thing to do".
The 70-year-old Waiheke Islander said it "would be really nice to have it built in my lifetime so I can get some benefit out of it".
Auckland councillor and Waiheke resident Mike Lee said Matiatia Bay was a busy area with a major ferry terminal, a separate working wharf, two boat ramps, significant carparking and was a popular recreational mooring place.
"If you are going to put a marina anywhere on Waiheke and there appears to be a demand for one, then [Matiatia] as a working port would seem to be the logical area.
"But on the other hand there are real issues with traffic congestion when the ferry is in and certain conflicts with the use of the boat ramps and so on. Those problems may be exacerbated. These are the issues that a hearing commission has to sort out," Mr Lee said.
Forest and Bird Hauraki Islands branch chairman Brian Griffiths said the environmental group had serious reservations about dredging and reclamation aspects for the proposed marina.
The marina is the second development proposed at Matiatia in the past decade.
A private company, Waitemata Infrastructure, planned to build a
$35 million village of apartments, restaurants, bars and hotel accommodation over 8.7 hectares of land.
About 1000 islanders formed the Community and People of Waiheke Group to stop the "Aucklandisation" of the prime coastal gateway.
The project was halted when Auckland City Mayor Dick Hubbard led a council initiative in 2005 to buy the land for $12.5 million.
Meanwhile, residents at the small coastal community of Sandspit, east of Warkworth, are fighting plans by the Sandspit Yacht Club Marina Society to build a 131-berth marina.
The matter is before the Environment Court after independent commissioners declined it.
On Tuesday, Save Our Sandspit spokesman Michael Taplin addressed Auckland Council's environment and sustainability forum about the risks of marinas, citing Milford, Westpark, Pine Harbour and Whangamata Marina as examples in varying degrees of financial difficulty.