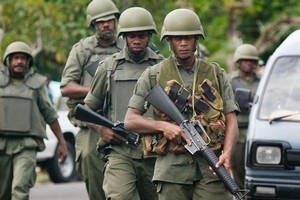 Police are considering a request urging them to arrest runaway Fiji military commander Tevita Mara over torture claims.
Lieutenant-Colonel Tevita Mara, who fled Fiji in May after being charged with sedition and treason, arrived in New Zealand overnight.
The Coalition for Democracy in Fiji has filed a complaint against him under the Crimes of Torture Act and the UN Convention against Torture, which New Zealand has ratified.
Spokesperson Nik Naidu alleged the Fijian military had carried out the torture of hundreds of its citizens and said Mr Mara had admitted to being present at some of the sessions.
New Zealand police this morning acknowledged receiving the complaint and said officers would evaluate the information it contains.
Mr Mara was granted a five day New Zealand entry visa by the Minister of Foreign Affairs and Trade.
He's due to meet with Ministry staff later today.
At a media briefing today, Lt Col Mara said he was surprised by CDF's allegations and denied torture had taken place under his command.
He said he was prepared to answer any questions from New Zealand police.

- NZ Herald staff