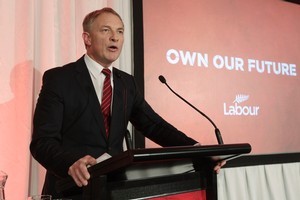 Labour leader Phil Goff says he is confident his party can win the election despite the latest poll showing support at a dire 10-year low.
Last night's TVNZ Colmar Brunton poll put support for Labour at 27 per cent - down 7 percentage points from its last poll in May - while National was up one point on 53 per cent.
Prime Minister John Key had 54 per cent support as preferred prime minister, while Mr Goff was on 9 per cent.
TVNZ today revealed the number of undecided voters had dropped since the previous poll, suggesting more people had made up their minds about who they would support at the November 26 election.
Eight per cent were undecided on who they would give their party vote to, down 3 points from the previous poll, while 14 per cent were undecided on their electorate vote, down 2 points.
Mr Goff told reporters today that Labour could win the election.
"We have other polls that we look at, and those polls have us doing significantly better. I'm confident that on the day that we can win."
Asked about the latest poll, Mr Goff said polls went up and down but he preferred them to go up.
"We'd like that polling to be better and we're working hard to improve it."
He said there had been only "two real polls" this year -- the Botany and Te Tai Tokerau by-elections, which both saw Labour improve its support.
"The crunch point came, people went out to vote, Labour held and improved its vote."
Mr Goff disagreed the poll put pressure on his leadership.
"I'm going to lead the Labour Party into this election and there's never been any question about that, apart from in the minds of some people in the National Party, their spin doctors and one or two who believed it."
He said the latest poll was done before the party announced its new tax policy - although details had been leaked in the week up to Thursday's announcement.
"I don't take this as a judgment on the capital gains tax, it's too early on in the piece."
Mr Key said the poll showed a rejection of Labour's new policy.
"I don't think the economy needs another tax right now and I think the New Zealand public is saying 'we don't want another tax right now'," he told TVNZ's Breakfast show.
He said such a tax was not needed and National had a plan to return the country to surplus while stimulating economic growth.
He thought the poll would have picked up sentiment about the tax, given how prominently it featured in media in the week leading up to the announcement.
Act Party finance spokesman Roger Douglas said Labour's drop in the polls was because New Zealanders realised its tax policy was a "massive grab" that would do nothing to help the economy.
The Act Party increased support from 2.5 per cent to 3.1 per cent in the poll, while the Greens showed the greatest increase in support, moving up from 6 per cent to 10.
The Maori Party more than doubled its support, going up from 1.4 per cent to 3 per cent, while Hone Harawira's new Mana Party dropped from 0.9 per cent to 0.5 per cent.
New Zealand First was on 2.4 per cent, up from 1.6 per cent, while United Future was on 0.3 per cent.
The poll's sampling error was estimated as plus or minus 3.1 per cent.
A TV3 Reid Research poll released last Sunday had National at 55.1 per cent and Labour at 29.9.
- NZPA