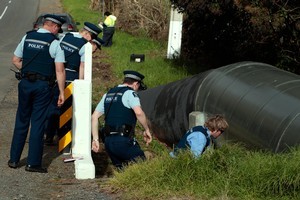 Police have arrested the mother of a newborn baby girl found dead in a plastic bag in a South Auckland stream.
The body was found in the stream at Burnside Road, Ardmore, on the southern outskirts of metropolitan Auckland on July 2.
An autopsy could not reveal how and when the baby died and police are awaiting the results of tests by a paediatric pathologist.
Counties Manukau Police have arrested and charged the baby's 21-year-old mother with concealing the body of a child.
She appeared in the Manukau District Court today and has been remanded on bail until August 11.
Detective Inspector Mark Gutry said further charges were still possible.
"We are waiting for a final report from a paediatric pathologist before making this decision."
The Herald understands the mother is a staff member of champion harness racer Tony Herlihy and had been staying at a cottage he owns on the front of his Burnside Rd property about 400 metres from the culvert.
It houses up to six people.
Detective Senior Sergeant Darrell Harpur earlier said it was understood that the baby was born at the cottage.
- HERALD ONLINE