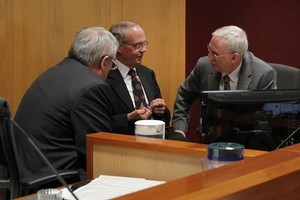 The start of the second week of the Royal Commission of Inquiry into the deaths of 29 men in the Pike River mine tragedy has been delayed by fog.
The commissioners were unable to fly into Christchurch this morning due to the fog, pushing back the start of the inquiry in Greymouth to 1pm.
Mark Smith from the Department of Conservation is first up to give evidence this afternoon.
His colleague, Craig Jones, DOC concessions community relations officer, said on Friday that Pike River Coal Ltd (PRC) was "slow" to develop the mine and had planned to build a second ventilation shaft from the mine as early as 2005.
A second ventilation shaft was never built.
The first phase of the inquiry focuses on New Zealand's regulatory environment, and the geography, approval and development of the mine.
A series of experts have told the inquiry last week that PRC had insufficient knowledge of the geology of the mine, ignored the advice of mine experts, overestimated its profitability and underestimated safety risks.
- NZPA