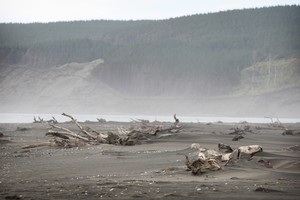 A diver was found "cold but well" after spending around 20 hours missing at a south Auckland beach.
Police said the 42-year-old Pukekohe man travelled to Sunset Beach in Port Waikato to find seafood yesterday morning.
He became separated from the rest of his group while searching for kina and found he wasn't able to retrace his steps after dark.
Search and rescue teams were alerted to the disappearance by the man's brother at 5:45pm last night.
Counties Manukau police spokesman Natalie Swart said the man had spent the night hunkering down on a rocky hillside.
A police Eagle helicopter found him "cold but okay" at about 8:45am.
Pukekohe Police sergeant Steve Williamson said the man was lucky to get through the night virtually unscathed.
The crew onboard the Eagle helicopter had wrapped him up in blankets and he received medical attention from waiting ambulance officers after landing in Pukekohe, he said.
"Obviously he wasn't dressed for an overnight stay in the outdoors so he was very cold.
"He is very lucky to have come through the ordeal as well as he has. Seaside conditions can be unforgiving and upredictable, and this, coupled with the cold at this time of year, can mean things can go tragically wrong very quickly."
Mr Williamson said it was important for groups to stick together when travelling to remote places.
Diver deaths a 'mystery': dive company
Meanwhile a director of a company that was training two divers who perished on Friday said he had no idea what went wrong.
Helix Training Ltd. director Hayden Allan said the two victims on North Shore's Lake Pupeke were experienced divers and had almost qualified to rescue diver level.
Daniel Waata Stoneham, 33, and Tyron North, 37, disappeared during a shore dive in the final week of a 15-week dive course, run by south Auckland company Helix Training Ltd.
Mr Allan said at the end of this week the men would have achieved a national certificate in diving and would have been qualified to rescue diver level.
It was sunny and the lake was flat in the morning and there had been a bit of rain in the afternoon.
Everyone at Helix Training Ltd was stunned by what had happened.
"We're all completely in shock and we're just thinking about Daniel and Tyrone and their families and how they're coping."
An autopsy on Mr Stoneham's body which was recovered yesterday is expected to be carried out today.
His body was found in 53 metre-deep water about 100 metres from the shore on the southern side of the lake, police said.
His family had been holding vigil on the shore since Friday while specialist police and navy divers scoured the murky lake.
Mr North's body was recovered on Friday and a post mortem conducted on Saturday.
The Department of Labour and police are investigating.
By NZPA and NZ Herald staff