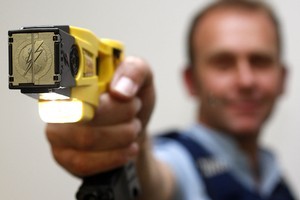 Police Tasers failed to work a third of the time they were fired, since the weapons' introduction in March last year, figures show.
The stun guns have been fired 102 times, but were ineffective on 36 occasions, the police's Tactical Options Research database showed, the Sunday Star-Times reported.
The guns were "presented" to people 797 times.
The 36 failures were due to "operator error" with the two probes either missing the offender or failing to lodge in their skin, police said.
Figures the paper obtained also showed the stun guns had been fired accidentally 108 times, sparking fears of police ineptitude in using the weapons.
All but one of those accidental firings occurred during "pre-operation sign out checks" at police stations, predominantly where officers failed to notice a loaded Taser cartridge prior to carrying out checks.
The other accidental firing took place inside a police car, but police were unable to provide details.
Police national firearm and taser project manager Superintendent John Rivers said the failure rate was in line with international statistics.
"It's not infallible. There's no surprises in the way things are tracking."
Mr Rivers said the accidental discharges had not resulted in any injuries but he said it was "frustrating".
Green MP Keith Locke, an outspoken critic of the guns, said the large number of times Tasers were presented showed a "mission creep" towards policing through fear.
"I would question whether the 797 times [would all] fit the guide line of serious danger to the officer."
- NZPA