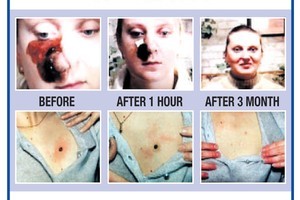 A business claiming to cure melanoma without surgery is outraging medical experts who say it is putting patients' lives at risk.
The business' advertisement, which ran this month, said it could treat melanoma non-surgically within three months.
It also offered counselling for singles and couples, pregnancy and parenting advice, and massage therapy.
After a complaint from a member of the public, the claimed cure has been referred to the Commerce Commission which says it intends to investigate.
When contacted by the Herald on Sunday, a woman representing the company refused to answer questions about where it was based and the treatment offered to patients.
"I'm not interested in talking about it," she said. "Do you have melanoma? Then what is your interest in this?"
The claims made by the business were shocking and could risk patients' lives, New Zealand Association of Plastic Surgeons president Howard Klein said.
"It is absolutely horrific and preys on those who may not know better," he said.
Melanoma could only be effectively treated with surgery, by removing the tumour, said Klein.
Surgery was often accompanied by chemotherapy or radiotherapy.
Left untreated, the "potentially lethal disease" could spread to the liver, lungs, brain and other parts of the body, he said.
Melanoma is the most dangerous type of skin cancer.
New Zealand has one of the highest skin cancer rates in the world, with more than 2000 cases a year, according to the Melanoma Foundation of New Zealand.