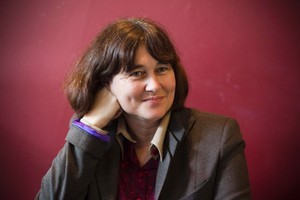 Helen Kelly, the president of the Council of Trade Unions, said something funny at the end of our hour and a bit, after she'd spent some time telling me off for asking stupid, offensive things instead of questions about, say, the economy and workers' rights.
She said: "I don't do any of these. Have you noticed? I don't do personal profiles; this is my first one!"
I must have dropped off during the bit where she shared the really riveting personal stuff about how she'd once had a fling with a National-voting, polo-playing, captain of industry. About how she'd sent her child to private school. And how she had a cleaner.
Sorry. That is very naughty and glib and, no doubt, somehow, sexist of me and all of it, except for the bit about the cleaner, is entirely untrue.
That goes without saying, but I'd better say it before she gets on her high horse and rings up and gives me another of her telling-offs.
She gave me one for saying - as a joke - that I knew she was "hot" because she'd told me so.
Well, she had. I phoned her in the thick of the Hobbit row and she said she couldn't do an interview that week but could the next, and that she'd still be hot then. I thought this was funny, and so did she, obviously.
But that was then. Making jokes about being hot is now distinctly not hot, since that story about Alasdair Thompson making silly remarks about her relationship with the PM and then telling her it was a joke, and that she was beautiful. Mentioning it got me a real growling because it's offensive and look at the state of the economy and so on.
What I really wanted to know was: why, oh why, didn't she just laugh it off, when it's so patently ridiculous? She must have known I was going to ask a question along those very lines - she is, as she pointed out, a politician - so why didn't she prepare a non-huffy answer?
She used to be a primary school teacher and it shows. Perhaps that's why she had the effect she did on me. In that, "Miss, miss! Your slip's showing. Only joking" sort of way.
When I reminded her of her "I'll still be hot" joke, she got extremely cross. "Bullshit I did," she said. "I meant hot as a topic. You do know I meant hot as a topic?" She can't really have been worried that I hadn't got it. She really was. "Because I didn't mean I'm hot. This is the same sexist bullshit that women get ..."
Had she just called me sexist? I wasn't game to ask. It seemed a good time to ask about her temper, which she famously lost during the Hobbit row when she called Sir Peter Jackson a "spoilt brat". She says she made a mistake and should never have done it.
She seemed nonplussed when I asked if she was sure it was entirely a mistake, so she really must think that. I'm not sure it did her any harm: it made her seem human, for one thing and, possibly, interesting and certainly tough.
I said I thought that flash of temper provided an insight, but she said, no, she wasn't known for losing her temper and hardly ever did and never shouted at her staff because "I'm respectful of people".
What a shame. I was hoping she'd be a bit more like her dad, the famous union leader Pat Kelly, who died in 2004 and who was, by all accounts, a grumpy bugger.
He claimed, when he retired, that he was pretty sure he'd never said a good thing about an employer in his life. His daughter says, about employers: "I prefer good relationships with employers." So she is always reasonable and never loses her temper, except with Sir Peter Jackson and me.
She adored her father and says he was kind and funny, actually. David Lange once said of him that he was "Gaddafi without the charm" which, I'm relieved to hear, she does think is funny.
But why was it? "Oh, you know. You're allowed to have a joke."
"Are you?" I said, and this is where the politician in her should have pricked up her ears. "Yeah, I don't take any of this stuff seriously."
So this is where I said that as she had such a good sense of humour, surely she could have simply laughed off Alasdair Thompson saying she was the PM's bit on the side. Honestly, I thought she'd laugh. I did, which was a big mistake.
She said, furiously, "Umm, no. Because that's not funny and it wasn't funny when he said it and it's not true. Alasdair Thompson's view is if we're not having our periods, lying in bed having our periods, we're sleeping our way to the top."
Right, so she doesn't find this funny, so nobody else is allowed to find it funny. Anyway, she doesn't like him, she says, although she quickly amended this to say she didn't dislike him personally; it's what he stands for she doesn't like.
She says she thinks he'd had too much to drink that night. She most certainly had not (that was a waste of a question.) She was completely sober. Is she always completely sober? "Yeah, pretty much."
Does she drink at all? "I'm not going to comment on that." What a peculiar thing to choose not to comment on. Why wouldn't she? "Because I don't drink. I stopped drinking about six months ago."
She gave up because she was "exhausted and I'd decided that something had to give", and anyway she never exactly got blotto, so fair enough. But why not just say so? Did she think if she said she didn't drink, people might think she'd had to stop drinking because she did get blotto?
"Because I don't judge people who drink and, you know ... That's not my point."
I think she might have decided not to answer, before belatedly realising how silly it was, because that was too personal a question. She has a funny definition of the personal. She'll tell me what she gets paid: $112,000. Is that a lot? "It's a hell of a lot! Don't you think it's a lot?"
But she won't tell me what she said to Thompson at the dinner in Washington DC where all of the nonsense happened. Let me have a guess. She told him to f*** off. "Yeah." I don't know why she was so coy about telling me that.
She was always going to be a union leader. She did teach but she was made a delegate on her first day. She had a totally union-soaked childhood which was obviously normal to her, although even she can see that playing "let's have a meeting" wasn't quite "let's play shops", which would be what those capitalist kids did.
Her parents met selling the People's Voice communist newspaper. Her brother painted an anti-Vietnam war poster as one of his first pieces of school art. She had a good time telling me these things. I had my head in my hands and was groaning at the predictability of each revelation.
She still lives in Mt Vic, in Wellington, where she grew up. (Her mother, who was "very active in the Vietnam war and is still very active in Vietnam aid projects", is now 86 and lives two doors down.)
She's at pains to point out that the Mt Vic of her childhood was a working-class suburb. It has become gentrified around her, and like her, I thought. "No, no! Oh, I'm a mixture of my upbringing, my education [she trained as a teacher and a lawyer]."
I think she can be a bit gentrified, when it suits. The voice she used to a Pacific Island delegate attending a CTU conference at the hotel where we met was not quite the one she used with me. She called her "mate", for example. She can sound like a politician, or a union leader.
She says she lives in a nice but not flash house and that she and partner Steve Hurring (a lawyer who was David Benson-Pope's political adviser) and her 19-year-old son, Dylan, from a previous relationship, run an open house where people come and stay for as long as they want or need to. She wouldn't tell me who.
"People who I don't want to expose because that's their business."
She says when her son brings a girl home she asks him who her parents vote for. Now that, she said, was a joke, but I don't believe her.
Tact, and subtlety, might not be her strong suits. She was determined to tell me all about the New Zealand media and their patsy coverage of the Pike River mine disaster. Serves me right for bringing up the PM saying she was "churlish" for pointing out that he sat next to the Pike River mine CEO at the memorial service.
I couldn't be bothered getting into a row about such things. I'd already had my ticking off. So I let her go on for a bit then asked another of my very important questions, about what she reads: Vanity Fair, her one frivolity, and she's rereading The Hollow Men (not for frivolous reasons, presumably.) But later she thoughtfully emailed a copy of a letter she'd written on the Pike River matter and which was published in the Australian.
An excerpt: "Only the Australian journalists were prepared to ask tough questions in those first few weeks of the Pike River mine disaster and were widely criticised by the New Zealand media for doing so. We need more of you here!"
Well, cheers. It either didn't occur to her that some of my mates might well be the journalists she was slagging off or, and more likely, she doesn't care. I sent a reply saying: "Um, thanks. Is the EPMU one of your affiliates?"
The EPMU is the journalists' union of which I am a member and of course I know that it's CTU affiliated, but I wanted to see if she'd take the hint. She didn't. She replied: "Of course!"
She wouldn't say she was slagging off her union members; she wouldn't even see it. She'd say she was telling it as it is, which is what she's paid to do and if she's a bit one-eyed (a bit!), why would she be anything else?
She's stroppy and committed and, when she's not being a primary school teacher, or talking union jargon, she's lively, engaging and sometimes enraging, company. I'd say that I liked her very much, but that might be getting personal.