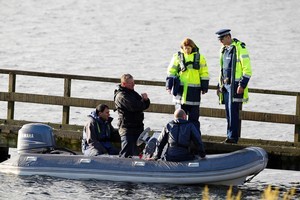 The search will resume tomorrow for a student diver missing after a training session went horribly wrong at Auckland's Lake Pupuke today. Another diver is already confirmed dead in the incident.
Emergency services were called to Lake Pupuke on Auckland's North Shore about 1.45pm after an eight-person trainee dive team run by Tauranga-based outdoor education provider Adventure Education, made up of three instructors and five trainees, reported problems.
One diver was recovered from the lake and another diver was missing, Mr Rogers said.
A third diver was injured in the water and had been taken for further medical treatment, he said.
Adventure Education general manager Sharon Sutherland said the team's total focus was on finding the missing diver and they were assisting police with their investigations.
"We will be doing a thorough investigation into what has happened here today, but our immediate priority is to find the missing person."
A Westpac rescue helicopter circled the lake this afternoon, while a boat searched for the missing person.
A large emergency team also searched the edges of Lake Pupuke.
The Department of Labour said an inspector had been sent to the lake to make initial inquiries.
- NZPA, Herald Online