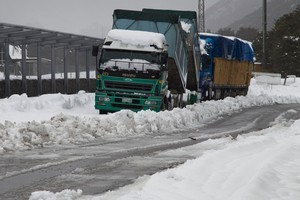 The wild winter weather which continues to batter the country should ease within the next 24 hours - but not before one final downpour, WeatherWatch says.
The severe weather has moved up the country today and rain over Auckland, Northland, Waikato, Coromandel Peninsula, Bay of Plenty and Taranaki this afternoon and tonight may be torrential at times, WeatherWatch forecaster Philip Duncan said.
One last surge of cold air with pockets of rough weather was expected today and tomorrow.
"This is the tail end of the system that has been with us for a week and a half.
"Aucklanders - and most other parts of the country for that matter - should see a real improvement in about 24 hours," he said.
Waikato Regional Council said water levels in larger rivers were expected to rise further over the next two days.
"The Waikato, Waipa, Waihou and Piako rivers are all swollen and will be further affected by today's rain, with water levels likely to peak over the weekend for the lower Waikato River," duty emergency management officer Adam Munro said.
Water levels were unlikely to recede until early next week.
- NZPA